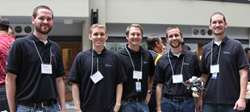 Winston-Salem, NC (PRWEB) June 30, 2014
Inmar today announced that five engineers from its IT team, and their middle school coach, took first place in Friday's Robot Fun Run, held at the Wake Forest Innovation Quarter in Winston-Salem. The team was proud to claim its LEGO® trophy during the awards ceremony. This is the second year that Inmar participated in the event, which is part of the Winston-Salem robotics program to fuel middle-school students' interest in science and technology in addition to teaching them employment and life skills.
The Robot Fun Run brings together teams from area businesses, institutions and departments who accept the challenge to build and program a LEGO® MINDSTORMS® robot and then compete to score as many points as possible on a thematic playing surface. The team with the most points receives its very own LEGO® trophy!
Carolina Liquid Chemistries finished in second place this year and the Wake Forest Biomedical Engineering team finished third.
"Most engineers can recall that point in time in which a mentor opened their eyes to technology and its unique ability to combine design creativity with logic in the construction of solutions that can reach so many," says Inmar CTO Greg Kerr. "Our participation in programs like this provides an opportunity to reach out and be a part of sparking in tomorrow's engineers that desire for innovation and belief in one's own capabilities."
# # #
ABOUT INMAR
Inmar is a technology company that operates intelligent commerce networks. Our platforms connect offline and online transactions in real time for leading retailers, manufacturers and trading partners across multiple industries who rely on Inmar to securely manage billions of dollars in transactions. Our Promotions, Supply Chain and Healthcare platforms enable commerce, generate meaningful data and offer growth-minded leaders actionable analytics and execution with real-time visibility. Founded in 1980, Inmar is headquartered in Winston-Salem, North Carolina with locations throughout the United States, Mexico and Canada.
For more information about Inmar's products and services, please call 866.440.6917 or visit http://www.inmar.com.
ABOUT WAKE FOREST INNOVATION QUARTER
Wake Forest Innovation Quarter in Winston-Salem, N.C., is one of the fastest growing urban-based research parks in the United States, with a master plan for as much as 6 million square feet of world-class office, laboratory and mixed-used space over its 145 developable acres. The Innovation Quarter supports a diverse mix of academic and commercial tenants by providing modern facilities, managed services and special amenities. It is projected that by the end of 2014 more than 50 technology companies and 26 academic entities will be operating in the Innovation Quarter, occupying more than 1.1 million square feet and employing more than 3,000 people alongside 1,200 students annually enrolled in workforce training in emerging technologies and the residents of more than 2,200 nearby apartments, lofts and condominiums.