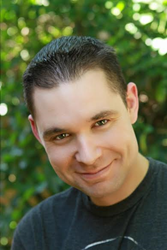 The standard gruff, manly voice is being put to the side at the moment.
London, Ontario, Canada (PRWEB) June 30, 2014
With the great rush of readying backyards for the summer season, those collecting supplies for a Saturday morning project may hear a familiar voice in the local home improvement retailer.
While shopping in any American or Canadian Lowe's, the voice heard down aisles belongs to Michael Brang, who many may recognize from campaigns he has voiced for major brands like McDonalds, Verizon, and Starbucks. A member of Voices.com, this voice-over actor is now the personality for Lowe's new summer campaign, "Outdoor Room." Lowe's created the campaign to showcase the products and processes that will enhance popular backyard projects. Ranging from solar lighting, patio deck restoration and preservation, lawncare, furniture, and more, the project's purpose is to increase awareness of how Lowe's can help customers make their backyard dreams a reality.
Looking for an energetic voice to promote their upcoming summer products, Lowe's and agency1903's production team selected Brang for his fresh, guy-next-door sound. "The standard gruff, manly voice is being put to the side at the moment," states Brang, explaining the tone of the initiative. "Lowes is appealing to the entire family, so they were not looking for just the stereotypical 'man of the house' sound, so to speak."
What was originally a one-spot deal bloomed to 8 after the second-largest home improvement retailer worldwide heard the initial voice-over and realized the potential afforded to the campaign. "For me, being that Lowe's is one of the largest home supply stores in the U.S. and Canada, it was an honour and big accomplishment to have earned their trust," Brang says.
The project, completed in Brang's home studio, will be airing in stores across North America, as well as on the company's YouTube channel.
Lowe's operates more than 1,830 stores in the United States, Canada and Mexico. Go here to see clips of the "Outdoor Room" campaign, currently running in stores and online.
About Michael Brang
With over a decade in the industry, Michael Brang has voiced countless projects for clients all around the world. He has worked with major brands like McDonalds, Verizon, Starbucks, Toyota and Ace Hardware - to name a few. Mike also coaches up-and-coming voice actors, both locally at his Ventura County-based studio, as well as via Skype and phone. He even assists students with how to be successful on Voices.com!
Mike is represented by Mike O'Dell at BBA Talent Agency in Burbank, CA. and is a member in good standing with SAG-AFTRA. Visit Mike at http://www.mikedoesvoices.com/.
About Voices.com
Voices.com strives to achieve amazing things through the talent and faith of ordinary people. Voices.com is the online marketplace that connects businesses with voice over talent.
More than 200,000 people from companies like ABC, NBC, ESPN, PBS, The History Channel, The Discovery Channel, Sony, Audible, Comcast, Bell Canada, Google, Microsoft, Cisco, Western Union, American Airlines, Toyota, Ford and GM as well as organizations such as the US Army and the US Government entrust the Voices.com online marketplace with their stories and collaborate online.