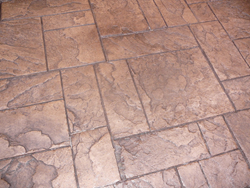 Morris, IL (PRWEB) June 30, 2014
Walttools, a U.S. manufacturer and distributor of professional grade decorative concrete tools and supplies, just released the Tru Hue line of integral colors for concrete.
One of the most popular methods for coloring newly placed concrete is integral color. This Tru Hue color is easy to use and will infuse the concrete with long- lasting rich color. This color is often a base color for decorative contractors to then create their interesting effects using textures, colored releases and various stains also available from Walttools. These effects can closely mimic materials normally found in nature such as slate and stone. With Walttools integrally colored concrete, the entire batch of concrete is colored all the way through, just like adding food coloring to a cake batter. Walttools Tru Hue integral color are a blends of pure natural iron oxides and special dispersing agents to ensure a thorough blend in the concrete mix. The palette offered consists primarily of soft earth tones that integrate well with most desired landscapes and architectural themes.
The chief advantage of integral pigments in general is that the entire slab of concrete is colored so that if unexpected scratches and chips occur to the surface, there is color visible thus reducing the unsightliness of the marks. That pure advantage of integral color can also be its detriment.
Integral color can become very expensive depending on color and intensity. Some common colors can cost upwards of $50-$60 per yard from some makers thus significantly increasing the cost of colored concrete. Not so with Walttools Tru Hue line. By offering a dozen colors priced below $15 per yard, it is the most economical integral color option on the market. The current color palette consists of 30 colors and that can be extended significantly with various combinations including the lowest priced green shades in their Moss and Sage selections.
Using integral color is as simple as throwing the proper number of bags, typically one bag for every yard of concrete, into the redi mix truck. The bags are made of a special quick dissolving paper that break down as the mixer turns and allows the color to mix thoroughly with the concrete. After 10 -12 minutes of blending, the concrete is fully colored and ready to be poured and placed.
Contractors looking for the best integral color brand as well as the best choices for all their professional grade decorative concrete supplies will look to Walttools. Known for the innovative product lines, top notch tech support, and service, Walttools is a leader in the decorative concrete industry.
About Walttools. Walttools is a premier manufacturer of Decorative Concrete Supplies whose products have been used in over 30 countries. If your local concrete supplier does not carry the Walttools lines of decorative products ask that they do, so you can have the best options for your projects. Their lines include Tru Impressions texture tools, the Tru Tex vertical concrete line, Tru Tint stains, and the ultra-versatile Tru Pac line of specialty ad pacs.