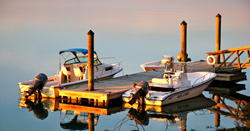 Prestigious Residential Country Club Award
Hilton Head, South Carolina (PRWEB) July 03, 2014
A private South Carolina Lowcountry community has a lot to be proud of and this season, they have a new envious award to prove it! On June 6, 2014, Spring Island announced their acceptance of one of the most prestigious awards in the world for luxury gated communities by a program created by Boardroom Magazine, the official publication of the Association of Private Club Directors. Spring Island won the Distinguished Emerald Club of the World award from the Distinguished Clubs of the World program.
The respected accomplishment made by this residential country club in the Low-country has generated media attention around the globe. Thanks to their upscale sporting amenities, pristine Lowcountry location, and impeccable service, The Spring Island Club earned the title and graciously accepted the recognition from one of the most respected private club trade publications in the world.
John Fornaro, Publisher of Boardroom Magazine, shared a few words about the South Carolina community's award: "We'd like to congratulate Spring Island for earning Distinguished Emerald Club status. Special recognition also goes out to Spring Island's General Manager, Thomas J. Noyes, CCM, CCE, as well as the club's board of directors, its department heads, and entire staff for their efforts in providing an excellent member experience."
Spring Island also received a nod of approval for their committed staff. Eight department heads were mentioned for their stellar service and initiatives to go above and beyond for the Spring Island club. Noyes represented Spring Island's staff and thanked the publication for the title and growing reputation for the community.
"I am pleased and honored that Spring Island has received this recognition, and I am so proud that our department heads were also recognized for the excellent way in which they conduct themselves and run their shops," said Noyes."These awards recognize the efforts and attitudes of every one of our team members who work hard each day to provide the best possible experience for our members and guests."
This award is no surprise for the Spring Island club which is known for its 3,000 acres of naturally preserved terrain and ideal sports amenities—35 miles of pleasing horse riding trails weave through the island. The Old Tabby Links golf course designed by Arnold Palmer reopened in late 2012 after "refreshing" the original design by restoring the natural character of the course and heightening the strategic interest of each hole.
Take a peek at Spring Island homes.
While Charleston is only 90 minutes to the north, and downtown Savannah is a 45-minute drive to the south, the privacy and exclusivity of Spring Island combines the best of everything. Quick day excursions to historical cities and when back at home, the level of service affluent families expect in a luxury private community. Spring Island received Real Estate Scorecard's Bliss Award for Best South Carolina Community of the Year in 2013.
Spring Island Amenities:

24-Hour Manned Gated Entrance
18-Hole Championship Golf Course designed by Arnold Palmer
Golf Clubhouse with dining River Clubhouse with dining
13,000 Square Foot Sports Complex Resort-style
Outdoor Swimming Pool
Indoor Heated Lap Pool
Comprehensive Fitness Center
Six Har-Tru Tennis Courts
Full Service Equestrian Center
35 Miles of Horse Trails
Nature Center
Sporting Clays
Community Boat Docks and Boat Ramp
In the equine world, Spring Island is known for being a top South Carolina equestrian community, yet Spring Island is a community for all types of sportsmen; saltwater fishing, hunting, golf and much more.
Buyers looking for an upscale residential country club in the Lowcountry, call Johnny Ussery or Tom Jackson of Gateway Realty to schedule a tour. Dial 843.384.8106
About Real Estate Scorecard:
Real Estate Scorecard writes unbiased real estate reviews, providing in-depth information about popular gated communities in Florida, Georgia, North Carolina, South Carolina, and Tennessee, all in an effort to help people discover where to retire in the Southeast.
Website: http://realestatescorecard.com