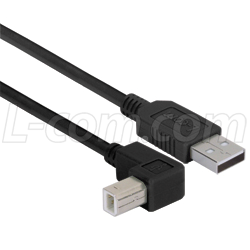 The demand for our angled USB cables is steadily growing.
North Andover, MA (PRWEB) August 14, 2014
L-com Global Connectivity, a designer and manufacturer of wired and wireless connectivity products, announced today that they will now be offering black 90 degree angled USB cable assemblies as an additional color option to their popular gray angled cables. L-com offers a wide range of right angle USB cable assemblies that are perfect for tight fit and confined space applications.
"The demand for our angled USB cables is steadily growing," said Steve Smith, Product Manager, "We wanted to add another popular color that our customers, particularly OEMs, could match to their product."
In addition to specific OEM applications, other common applications where black angled USB cables can be used are PC peripheral interconnects, test and measurement, data acquisition, portable data storage and printer interface.
The new black angled cable line is offered in all four standard mold options for type A and B connections. These high quality constructed cables feature USB 2.0 compliant 24 AWG power leads. There are also fourteen popular connector angle combinations available as stock cables and additional connector angle combinations can be produced as custom products.
For more information about this release, please contact:
Lindsey Cook, Internet Marketing Specialist
978-682-6936 x1148, lcook(at)l-com(dot)com
About L-com Global Connectivity
L-com Global Connectivity, a global leader in the manufacture of wired and wireless connectivity products, offers a wide range of solutions and unrivaled customer service for the electronics and data communications industries. The company's product portfolio includes cable assemblies, connectors, adapters, computer networking components, and custom products, as well as their HyperLink® brand of wireless products which include antennas, RF amplifiers, coaxial lightning and surge protectors, and NEMA rated enclosures. L-com's HyperLink® wireless products are designed for WiFi, WiMAX, SCADA, 802.11a/b/g/n/ac, RFID and Bluetooth applications. In addition to HyperLink®, L-com's other brands include MilesTek®, specialists in Military/Aeronautics connectivity solutions and Aiconics®, a leading manufacturer of electrical connector products. Trusted for over 30 years, L-com, which is headquartered in North Andover, MA, is ISO 9001: 2008 certified and many of its products are UL® recognized. For more information, please visit: http://www.L-com.com/.