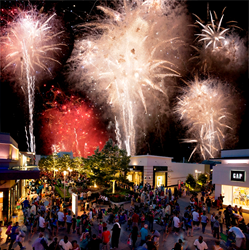 White Plains, N.Y. (PRWEB) June 30, 2014
Now that summer has officially arrived it's time to book a fun getaway for the entire family, and the good news is that Westchester County has already done all the planning for you.
Westchester is kicking off summer with an array of Independence Day celebrations throughout the first week of July. In addition, families can take advantage of the many events and attractions Westchester has to offer all season long.
"Summer is a great time to visit Westchester," said County Executive Robert P. Astorino. "From outdoor concerts and festivals to great hiking trails, pools and beaches, there is no shortage of fun, family-friendly activities for everyone to enjoy."
The following is a list of upcoming events and attractions:
Concerts, Fireworks, and Parades
Start the summer off by celebrating Independence Day. Fireworks are one of the biggest attractions families look forward to at the start of summer, and in Westchester County, there are a host of displays for everyone to enjoy. The following are patriotic events scheduled in honor of Independence Day:
Wednesday, July 2
Playland Park in Rye will kick off its great summer fireworks displays choreographed to music on Wednesday, July 2. The fireworks will continue every Wednesday and Friday night in July and August, starting at 9:15 pm. Additionally, Playland will have a special holiday salute to Independence Day on Thursday, July 3 with fireworks accompanied by patriotic music on the Pier. For more information, please visit http://www.ryeplayland.org. The White Plains Independence Day Fireworks will also take place on Wednesday, July 2 at 6:00pm at White Plains High School, located at 550 North Street in White Plains. For more information, call (914) 422-2182 or visit http://www.wpcsd.k12.ny.us.
Thursday, July 3
Celebrate the holiday with the official grand re-opening of one of Westchester County's most popular and iconic parks with live music and one of the area's most stunning fireworks at the annual Music Fest & Fireworks at Kensico Dam Plaza on Thursday, July 3. Referred to as "Westchester's Central Park," Kensico Dam Plaza was recently renovated with lighting that allows the park to remain open after dusk. Pre-concert entertainment starts at 6:00 pm and the Stolen Moments Band will take the stage at 8:00 pm. Fireworks are scheduled to begin at 9:15 pm. Admission and parking are free and lawn chairs and blankets are welcomed for seating so that families can picnic during the entertainment. Kensico Dam Plaza is located at the north end of the Bronx River Parkway in Valhalla. For more information, call (914) 864-PARK or visit westchestergov.com/parks.
As Cross County Shopping Center celebrates its 60th Anniversary this year, a lineup of events for SummerFest 2014 will kick off a three-month long celebration, which will include a series of outdoor celebrations and promotions geared toward families in the region. Plus, shoppers will be able to use the SummerFest Dining & Savings Guide to take advantage of the great retail and dining selection. To celebrate Independence Day, a concert on Thursday, July 3 by the NYC Swing Band will include a Spectacular Fireworks Display. Each year, thousands of local residents and visitors enjoy the fireworks that amaze both children and adults. The band performance and fireworks are just part of the fun. Starting at 6:00 pm on "The Green" in the center of the mall, strolling entertainers, including stilt walkers, face painters and balloon artists, will captivate the audience with their talents. The band will perform at 7:00 pm and fireworks will follow at 9:30 pm. Guests can also visit the Cross County booth, located near the center stage, for a free handheld American Flag. Cross County Shopping Center is located at 8000 Mall Walk in Yonkers. For more information, visit http://www.crosscountysummerfest.com or follow the center on Facebook.com/crosscountyshoppingcenter.
Friday, July 4
Saint Paul's Church National Historic Site will host an event on Friday, July 4 highlighting the exploration of events leading up to the Declaration of Independence by William Hogeland, author of "Declaration: The Nine Tumultuous Weeks When America Became Independent, May 1 – July 4, 1776." This outdoor event will feature music, speeches, refreshments, the reading of the Declaration of Independence and the toll of the historic Saint Paul's Church bell 13 times. Saint Paul's Church helps to tell the story of the development of colonial society and the road to the American Revolution. It consists of an 18th-century church that was used as a Revolutionary War hospital, a historic cemetery with burial stones dating to 1704 and the remnant of a Village Green that was the site of the Election of 1733 which raised issues of Freedom of Religion and Press. Saint Paul's Church National Historic Site is located at 897 S. Columbus Avenue in Mount Vernon. For more information, call (914) 667-4116 or visit http://www.nps.gov/sapa/index.htm.
Another option is to start the weekend with a spirited reading of The Declaration of Independence, live music, foods, crafts, games and plenty of other activities on the grounds of John Jay Homestead on Friday, July 3 from 11:00 am to 4:00 pm. There is free admission to the grounds. Fees are applied only for food and drink, as well as some of the fair activities. John Jay Homestead is located at 400 Jay Street in Katonah. For more information, call (914) 232-5651 or visit http://www.johnjayhomestead.org.
Take the holiday into the weekend with Caramoor's Summer Music Festival. With Pops, Patriots & Fireworks on Friday, July 4, Caramoor Center for Music and the Arts has prepared a series of entertainment with Broadway's Ryan Silverman, Alto Saxophone soloist Lois Hicks-Wozniak and Westchester Symphonic Winds conducted by Curt Ebersole booming Tschaikovsky's 1812 Overture, Sousa's The Stars & Stripes Forever and more. On Saturday, July 5 at 8:00 pm, enjoy Broadway superstar Patti LuPone with Far Away Places, her critically-acclaimed concert with a five-piece band. Then, on Sunday, July 6 at 4:30 pm, Jeffrey Kahane and Orchestra of St. Luke's will perform. Attendees can witness the amazing talent of the pianist/conductor and music director of the LA Chamber of Commerce. Caramoor Center for Music and the Arts is located at 149 Girdle Ridge Road in Katonah. For more information, call (914) 232-5035 or visit http://www.caramoor.org.
Delicious Dining
After enjoying amazing fireworks and other patriotic events, stay the night at a luxury inn, featuring two restaurants and a yoga studio. Bedford Post Inn has guest rooms that combine classic beauty and modern amenities, including working fireplaces, wooded terrace views and extravagant Frette linens. With only eight rooms, early booking is recommended. Bedford Post Inn is located at 954 Old Post Road in Bedford. For more information, call (914) 234-7800 or visit http://www.bedfordpostinn.com.
Start your Saturday morning after the 4th of July with a quintessential American breakfast at Blind Charlie's Café, a brunch hotspot along a winding country road in Pound Ridge. Diners will find Eggs Benedict, omelets, Belgian waffles, corned beef hash – and plenty of coffee, of course – in the picturesque town. Blind Charlie's Café is located at 74 Westchester Avenue in Pound Ridge. For more information, call (914) 764-8000 or visit http://www.yelp.com/biz/blind-charlies-cafe-pound-ridge.
New Summer Itineraries
Your time in Westchester doesn't have to be limited to July. A new set of various itineraries have been revealed for couples, families and friends to use during their extended stay in Westchester County, the first stop in the Lower Hudson Valley.
The Naturally Beautiful Driving Tour Itinerary is a perfect way to explore Westchester during the Independence Day long weekend or during any other visit this time of year. Get in the car and take in the sights while taking a cruise to see the prettiest places in Westchester. This driving itinerary is the perfect overnight escape from New York City, with stops in scenic Irvington, Tarrytown, Pleasantville, Cross River, Katonah and Mount Kisco.
Start with the scenic Hudson Park at Irvington. It is only about a 45 minute drive from midtown Manhattan to this scenic Westchester village. Pass through Van Cortlandt Park and Sprain Ridge Park before stopping at Irvington's riverfront esplanade. There's ample parking, so stretch your legs and take in the view. From Interstate 287 exit 9, take Route 9 south for 1.6 miles. At traffic light, turn right on Main Street. Continue to the end, make a right on North Astor Street, and a left on Bridge Street. Cross railroad tracks, and follow Bridge Street to the left. The park is on right, past Bridge Street Properties. Visit http://www.scenichudson.org/parks/shparkirvington for more information.
Next, stop by Sweet Grass Grill. A ten-minute drive north will bring you to the rolling hills of Tarrytown. Eat lunch at the friendly and funky Sweet Grass Grill, a local, seasonal, farm-to-table eatery. Try the Quinoa Caesar salad, Buffalo Tempeh sandwich, or Seared Citrus Glazed Scottish Salmon. Sweet Grass Grill is located at 24 Main Street in Tarrytown. For more information, call (914) 631-0000 or visit http://www.sweetgrassgrill.com/.
After a nice meal, visitors can then visit Graham Hills Park. Just continue to follow Rte. 9 to 117 through the lush Rockefeller Park Preserve, and stop at Graham Hills Park. Popular with experienced mountain bikers, tourists can also hike the five miles of trails. Pass bridges, stone walls, and countless varieties of native plants. Graham Hills Park is located at Mount Pleasant in Pleasantville. For more information, visit http://parks.westchestergov.com/graham-hills-park.
Follow the Saw Mill River Parkway out of Graham Hills Park, taking short detours along the way to visit some of the many bird sanctuaries owned by Saw Mill River Audobon. Bring your binoculars – you never know what feathered friends you may encounter. Then, follow the Saw Mill River Parkway into Katonah, turn onto Cross River Road, which will lead you to the Cross River Reservoir. One of several reservoirs that supply NYC's drinking water, the peaceful waters are stocked for fishing every year. For more information, visit http://www.dec.ny.gov/outdoor/75469.html.
Turn around and head back to the quaint hamlet of Katonah for dinner at the family-owned Blue Dolphin. Don't be fooled by the small space and casual atmosphere - this neighborhood spot cranks out classic Italian cuisine that packs a punch. No reservations required, so walk right in. The restaurant is located on Katonah Avenue in Katonah. For more information, call (914) 232-4791 or visit http://www.thebluedolphinny.com/welcome.html.
It's just a short drive back down Saw Mill River Parkway to Mount Kisco's Holiday Inn hotel. The friendly front desk staff will make you feel right at home as you unwind from your day of exploration. Hop in the pool and cool off before hitting the hay. The hotel is located at 1 Holiday Inn Drive in Mount Kisco. For more information, call (914) 241-2600 or visit http://www.ihg.com/holidayinn/hotels/us/en/mount-kisco/mtkny/hoteldetail.
For a full list of the summer itineraries and more of the latest events and happenings in Westchester, log onto http://www.visitwestchesterny.com, like us on Facebook (facebook.com/westchestercountytourism), follow us on Twitter @westchestertour or call 1-800-833-9282. To view the Westchester County Destination Guide, please visit http://digital-editions.mediatwo.com/westchester-destination.
About Westchester County Tourism & Film
Tourism & Film is Westchester County's official destination marketing organization. Its mission is to generate economic benefits by enhancing the image and promoting Westchester County as a premier business and leisure destination in the Hudson Valley region. The Tourism & Film Office in Westchester County is a division within County Executive Robert P. Astorino's Office of Economic Development.