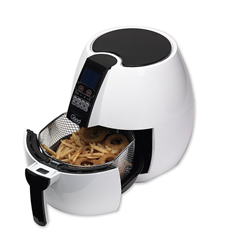 Frying without Oil is now a reality!
Milford, CT (PRWEB) July 01, 2014
According the the National Center for Health Statistics, an astounding 62% of Americans were overweight. Inactive lifestyles and high calorie intakes make us a nation of obese people. We love our fried foods, but there is no way to eat them healthily, until now.
SCS Direct and Cameron's Products have released their Good Cooking Air Fryer that really does "fry" with zero oil. How does it work? The Good Cooking Air Fryer uses a highly concentrated hot burner and a unique metal basket that will crisp the outside of your food while the steam generated will keep it juicy on the inside. The end result is a fried taste that will make you yearn for more.
Using the Air Fryer is incredibly easy. For chicken wings, for example, simply drop your wings into the fryer for 20 minutes, shaking the basket halfway through the cycle, and out comes a basket of fried wings. For breaded foods, just batter dip or bread your favorite fish, meat, and vegetables, and within 15-20 minutes, the air fryer will "fry" up the next meal.
The Good Cooking Air Fryer retails for under $200 at a very affordable $179.95.
Cameron's Products (Cameronsproducts.com) has been manufacturing BBQ and cooking products for over 25 years. SCS Direct of Milford CT acquired Cameron's Products in 2013 to consolidate the unique housewares products developed by both companies. For more information on the Air Fryer or Good Cooking line of products, visit SCSDirectInc.com, or call 203-870-4867. Available on Amazon or other fine retailers.