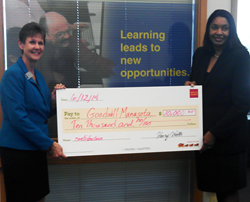 "Wells Fargo is pleased to provide support for financial and homebuyer education," said Machelle Maner, Community Development Office for Wells Fargo. "As our Vision and Values state, we want everyone in our communities to succeed financially."
Bradenton, Fla. (PRWEB) June 30, 2014
Goodwill Manasota has received a $10,000 grant from Wells Fargo for homebuyer education and financial classes.
These programs provide the financial education and skills needed to successfully manage personal finances and transition from poverty to economic independence. In addition, it will also offer home buyer/owner counseling on financial planning, home maintenance and other financial considerations related to home ownership.
"Wells Fargo is pleased to provide support for financial and homebuyer education," said Machelle Maner, Community Development Office for Wells Fargo. "As our Vision and Values state, we want everyone in our communities to succeed financially."
This funding will allow Goodwill Manasota to continue to make its financial education classes available to the public at all 10 Job Connection Centers in four counties. In 2014, the nonprofit will open three new Centers – making it more convenient and accessible for low-income individuals to attend the financial education classes.
In September 2014, Sarasota County eliminated its funding for homeowner education due to budget cutbacks. Manatee County also eliminated its funding three years ago for homeowner education for the same reason.
The nearly $12,000 loss in funding for Sarasota County challenges Goodwill Manasota's ability to continue to meet the community need. The financial support, provided by the Wells Fargo Foundation, will help the nonprofit continue to provide this free community service by supporting the purchase of a dedicated laptop and projector to accommodate the new training locations; an outreach campaign to reach a broader audience; and Spanish coursework translation.
A study just released reports that the number of children living in poverty in Sarasota nearly doubled from 2000 to 2010. Goodwill Manasota provides these individuals and families with the financial acumen and job skills required to move out of poverty.
An overview of those served by Goodwill Industries Manasota in 2013:

Looking for assistance in improving their financial literacy and repair credit: 31 percent
Currently seeking affordable rentals or subsidized housing: 24 percent
Behind on monthly bills or rent/mortgage: 20 percent
Owe money to the government (IRS, student loans, child support...): 6 percent
Receive help from an agency to pay bills: 4 percent
Need assistance with food, utilities and work clothing: 19 percent
Have credit or debt that has been referred to collection agency: 8 percent
Unemployed/dislocated worker: 60 percent
Goodwill's clients are further challenged by:

Disabilities: 25 percent
Offender/ex-offender: 14 percent
Older worker: 5 percent
Homeless or receive government assistance: 5 percent
Lack GED/HS diploma: 12 percent
About Goodwill Manasota
Goodwill Manasota is an industry-leading, 501(c)(3), not-for-profit organization that changes lives through the power of work. With the sales of donated goods and philanthropic donations, Goodwill is able to assist people with disabilities and other barriers to employment by providing job skills training and employment opportunities. In 2013, we served more than 16,000 people, placed 537 people in jobs and assisted 329 veterans as they reintegrated back into the civilian workforce. Goodwill Manasota's economic impact back to the community is worth $39.3 million. We accomplish our mission through a network of Good Neighbor Centers in Sarasota, Manatee, Hardee and DeSoto counties and our Mission Development Services (MDS) around North America. We also provide opportunities through numerous programs, such as Donated Goods Employment Services, Job Connection, American Veterans & their Families Initiative, JobsPlus, Supported JobsPlus, GoodwillWorks, White Glove Services, Good Neighbor Program and Ambassadors Program. Goodwill is one of the pioneers of the reduce-reuse-recycle movement and this past year diverted 37 million pounds out of the landfill. Goodwill Manasota is legally organized under the laws of the United States and the State of Florida. We are accountable to a local Board of Directors. Goodwill Manasota in essence belongs to this community, and is NOT owned by any individual or company. For more information, visit EXPERIENCEGOODWILL.ORG.