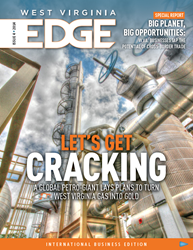 "West Virginia has shown the world that we have the quality products, services and workforce to compete in the global marketplace," said Gov. Earl Ray Tomblin
Charleston, WVA (PRWEB) June 30, 2014
West Virginia announces a series of economic development achievements in recent weeks.
Edge magazine
The latest edition of Edge magazine showcases the talents and capabilities of West Virginia businesses. The current issue focuses on international business relationships forged across borders, foreign investments working in the state and the cover story on a Brazilian conglomerate's proposed petro-chemical project.
The magazine is distributed in print form to about 30,000 individuals, trade associations and businesses ranging from small to Fortune 1,000. The magazine is also available online at http://www.wvcommerce.org.
Edge business report
The monthly Governor's Edge business newsletter reported:

Continued progress regarding the Appalachian Shale Cracker Enterprise LLC (ASCENT)
The launch of ChemCeption, the nation's first incubator focused solely on commercializing chemistry-based technology
The completion of the state's business investment mission to Japan
Export awards
Gov. Earl Ray Tomblin recently presented the Governor's Commendation for International Market Entry to West Virginia businesses that exported to new foreign destinations. Many of this year's honorees exported to emerging markets in Africa and the Middle East. The exported products and services cover a diverse range, including barrel saunas, truck parts and large scale DNA sequence production.
Community Awards
The governor also hosted the state's Main Street and ON TRAC Reception and Awards Program to recognize the state's communities' achievements. Main Street West Virginia, a program of the West Virginia Development Office, focuses on economic revitalization of historic commercial districts.
For more information about West Virginia business activities, visit http://www.wvcommerce.org.