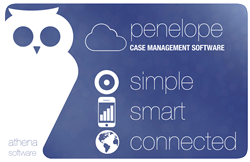 It's a real game-changer, as agencies can now create sets of custom automatic workflows, notifications and alerts involving virtually any aspect of client service.
Waterloo, ON (PRWEB) June 30, 2014
The lives of staff at nonprofit and social service agencies around the world using Athena Software's Penelope case management application are about to get easier.
The Waterloo, Ont. software company (http://athenasoftware.net) will soon be releasing version 4.1 of Penelope, which includes a comprehensive new suite of workflow options that can be configured to automate a vast multitude of processes at an organization.
These could range from setting escalation workflows to automatically alert designated managers when a document has not been signed within a certain number of days, for example, to automating the process from client intake to assignment, with innumerable steps in between, all of which can be configured to notify or alert any relevant parties at the agency along the way.
The variety of options available within the new version mean the release could revolutionize how agencies conduct their business, said Athena Software partner Greg Stanley-Horn.
"With this exciting new update, we've delivered an innovative and effective set of tools to help organizations reach new levels of efficient, timely and responsive service delivery," he said. "It's a real game-changer, as agencies can now create sets of custom automatic workflows, notifications and alerts involving virtually any aspect of client service. This helps organizations deliver improved client outcomes and increased social impact by creating best practice process pathways and notification rules that automatically ensure service delivery milestones are met, critical information gets to the right people at the right time and staff are kept on track within a robust new quality assurance framework."
The release of the innovative new workflow features follows the release of Athena's similarly groundbreaking Collaboration Suite release in January 2014 and the subsequent addition of electronic signature capabilities within Penelope in March of this year.
Like the addition of the Collaboration Suite's many internal messaging and manual workflow features, the new capabilities in version 4.1 were the result of extensive development work and of Athena simply listening to the needs of its clients, Stanley-Horn said.
"Now agencies can streamline tasks, automatically structure workflow events over time, automatically trigger alerts and notifications based on agency-configurable rules, ensure case notes and progress updates are done on time, and even open up a sequence of escalation or service delivery processes if custom outcomes, indicators or client data reach agency-set thresholds. Case workers will love the "tickler" system to keep their work organized and on track. And it's a manager's dream, as tasks and alerts are automatically triggered and their completion can easily be monitored," he said.
"From a client safety, duty of care and risk management perspective, the new release will prove invaluable in ensuring policies and procedures and defined service pathways are automatically set in motion and managed effectively."
Version 4.1 of Penelope will be made available to all Athena Software clients in the summer of 2014.
 
ABOUT ATHENA SOFTWARE
Athena Software (http://www.athenasoftware.net) is a case management software provider based in Waterloo, Ont., Canada. Since 2001, Athena has grown to partner with hundreds of organizations across the globe, with over 17,000 end users of its Penelope case management solution.