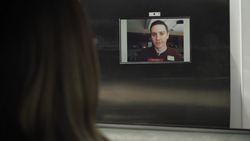 Edmond, Oklahoma (PRWEB) July 02, 2014
Citizens Bank of Edmond and OrderMatic are putting a human face on electronic banking.
On June 24, the community bank based in Edmond, Okla. cut the ribbon on the flagship location of its six highly interactive automatic teller machines, which put customers face-to-face with bank tellers through direct video links. Citizens Bank of Edmond is the first community bank in the nation to implement this technology, which represents the greatest advance in ATM interfaces since the first machine was installed in 1969.
"On the technology front, Citizens Bank of Edmond is helping redefine a system that has essentially been unchanged since it was introduced," said Citizens Bank of Edmond CEO Jill Castilla. "Until now, we haven't had new options in the marketplace and the technology you really need, including for ATMs. So we worked with OrderMatic to develop this kiosk, which empowers customers to interact directly with tellers. By adopting new technology, we've greatly expanded what an ATM can provide."
Oklahoma City-based OrderMatic, the company that created the video kiosk known as SASI, or See and Speak Interface, is a leader in developing point-of-sale (POS) technologies for companies looking to build greater communication with their customers. Other clients include Subway, SONIC Drive-In and Taco Bell.
"This is a new day for our company and an exciting time to be in the POS industry," said Robert Powell, president and CEO of OrderMatic. "We are taking our drive-through technology that has successfully worked for six decades, and applying new methods of communication that appeal to a broader consumer base.
"The financial industry is hungry for innovation," Powell said. "This technology enables a customer to drive up to an automatic teller machine, touch a video screen and immediately conduct business with a teller in a remote location."
With the first phase of SASI development complete, Citizens Bank of Edmond customers can now experience this new style of electronic banking at six area locations:

Banking Center- Broadway & Hurd
Kelly & Danforth- 829 W Danforth Rd, NE Corner of Kelly & Danforth
I-35 Drive-Up- 4691 I-35 W Frontage Road, Corner of 1-35 W Frontage Road & Memorial
Crest Drive-Up- 2202 SW 15th Street, NW Corner of Parking Lot
Boulevard Office Park- 3500 S Boulevard
Fenwick Plaza- 16802 N Penn
High-quality photos and video are available here: https://www.dropbox.com/sh/roqz1qzgkqj1loj/AADUU6WGRuXBf73BkYFvEHDza
Citizens Bank of Edmond CEO Jill Castilla and OrderMatic CEO Robert Powell are available for interviews and demonstrations of the new ATMs. To schedule an interview with Castilla, contact George Lang at (405) 641-5392 or glang(at)kochcomm(dot)com. To schedule an interview with Powell, contact Karen Wicker at (405) 550-4040 karen(at)candorpr(dot)com.
###
Citizens Bank of Edmond continues to operate on the same Downtown Edmond intersection where it was founded in April 1901. The fiercely independent $250 million community bank's unique ownership structure is comprised of fourth-generation family ownership, an Employee Stock Ownership Program and community stockholders. As an innovative leader in community banking, Citizens Bank of Edmond provides commercial and consumer financial services, mortgage origination, cash management and mobile banking solutions as well as accessibility through non-traditional avenues. Citizens Bank of Edmond is consistently recognized for outstanding achievements in banking, customer service, community service and social media by local and national organizations. For more information about Citizens Bank of Edmond, visit http://www.citizensedmond.com, [email protected], facebook.com/citizensedmond or youtube.com/citizensbankedmond.
Order-Matic Electronics Corp., LLC. is the leading manufacturer of restaurant communications systems in the U.S. since 1955. The company serves approximately 5,000 clients nationwide. For more information, visit http://www.ordermatic.com or call 800-767-6733.