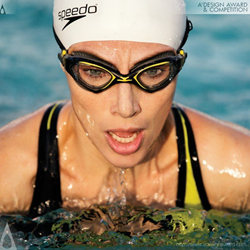 Como, Italy (PRWEB) June 30, 2014
A' Design Award and Competition is pleased to announce that the Swim Goggle designs based on Elastomeric Technology by Speedo USA has been awarded with the renowned Platinum A' Design Award in Sports, Entertainment and Recreation Equipment Design Competition.
More on Elastomeric Technology Collection
Erika Gentry, one of the designers of the award winning goggle designs explained "Elastomeric™ technology is an exclusive development preventing excess pressure from building around the eye; this new offering provides a superior gushy seal, unparalleled in other swimming goggles. Clear Sight™ Technology: Split-angled lenses offer 180° peripheral vision with zero distortion. All curved lens goggles inherently have some degree of distortion that cause eye fatigue, and prevent maximum visibility. Utilizing a split-angled lens, Speedo combines two flat lenses together, thereby eliminating the need to curve the lens, while offering the best sight possible. " Learn more about the award winning design: http://www.adesignaward.com/design.php?ID=31852.
Creative Team for Elastomeric Technology Collection
Elastomeric Technology Collection was conceived by Erika Gentry, Barry Mc Geough and Craig Stiff.
The Platinum A' Design Award
The Platinum A' Design Award is a prestigious design award given to top 1% percentile designs that has delivered an exemplary level of greatness in design. Entries to the A' Design Award & Competition are peer reviewed and anonymously voted by a 50-person grand jury panel consisting of design professionals, prominent press members as well as established scholars. Laureates of the A' Design Award & Competition are given the A' Design Prize which includes a series of PR and publicity tools such as inclusion in World Design Index to help promote the winners. The A' Design Prize further contains of a 3D printed metal trophy, the design excellence certificate, the yearbook publication, exhibition and gala-night invitations as well as translation of awarded entries to over 40 languages.
About A' Design Award and Competition
The A' Design Award and Competition was established to promote good design practices and principles worldwide in order to create a global awareness for good design. Aligned with this mission, each year the A' Design Award & Competition promotes the very best designs from across the globe. The ultimate aim of the competition is to create incentives for designers, artists, architects and brands worldwide to come up with superior products and services that could benefit society. To learn more about the A' Design Awards visit: http://www.designaward.com.