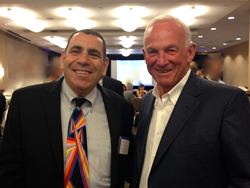 Treating customers with personal care is the reason for our success.
San Diego, CA (PRWEB) July 01, 2014
Stuart Benjamin and Company Jewelry Designs was recently announced as a finalist in the San Diego Regional Chamber of Commerce Small Business Awards for Excellence in Customer Service.
Presented annually, the awards honor local small and micro businesses for their significant contributions as drivers of economic growth throughout the region, as an experienced and trusted advisor on issues of critical importance to businesses, particularly new start-ups, finance, operations and profit planning.
"Small businesses make up over 90 percent of our city's businesses. These awards are an opportunity to celebrate the hard work and excellence of San Diego's local small businesses and the contribution they make to our regional economy," said Chamber CEO Jerry Sanders.
Owner and President Stuart Benjamin stated, "We appreciate the recognition from the Chamber of Commerce. Treating customers with personal care is the reason for our success. We know most of our customers by name and know that each piece of jewelry has special meaning to them. Whether they come to us for an engagement ring, a diamond or a new customer design we provide everyone with the highest level of service possible."
# # #
Since opening in 1997, Stuart Benjamin and Company Jewelry Designs has been a leader in the jewelry in business in San Diego. For nearly twenty years they have offered the highest quality engagement rings, diamonds, watches and jewelry along with custom design and repair work. Stuart Benjamin is a 3rd generation jeweler and past President of the California Jewelers Association. Their outstanding service, knowledge and integrity has been rewarded with membership in the American Gem Society (AGS), for which only 5% of jewelry stores in the nation qualify.