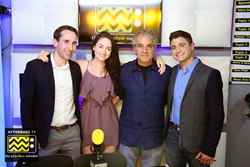 Los Angeles, CA (PRWEB) July 02, 2014
Michael Jacobs, creator of the 90s hit series Boy Meets World, speaks candidly with AfterBuzz TV hosts Kristen Snyder and Lee Epstein about the process of creating the much-anticipated sequel Girl Meets World.
Taking us behind the scenes of the pilot, Jacobs describes in detail a scene starring William (Bill) Daniels as the famous teacher Mr. Feeny, which ended up on the cutting room floor. "We shot two scenes with Bill for the pilot, and I don't mind telling you because we're being truthful here about what happened. The scene we shot with Bill was wonderful, and took you right out of the show...And it was a wonderful scene. I chose not to show it, which doesn't mean I won't show it eventually. The reason I chose not to show it was Cory's the teacher, and Cory is not Feeny."
Jacobs has a message for fans of Boy Meets World: "To the original audience: stay. For those of you who left (the pilot) going, 'It's a little young,' I'm telling you, 'Stay.'" Jacobs says, "The show brings back almost all of the original cast (of Boy Meets World)." "If you liked the pilot at all, you will love the next episode. It's better. And the one after that is better than that. And that, I think, is a good series."
Jacobs speaks about the process of creating television that is both entertaining and educational. "I've been lucky enough to find a forum," he says. "These shows reach --- because of the power of television --- a vast audience. If we can do a little learning, as my rabbis would say, good!"
In the hour-long conversation, Jacobs, who speaks eloquently like a wise and humble teacher offers many words of wisdom. "If there's anything, chase love," Jacobs advises. "It's the most important decision you make in your life: whom to go through it with. Hold on tight. I guarantee you: you will get dragged in the road, but if you get up, you're fine. The thing about anything worth having is it takes a long time to get there."
Jacobs and Disney Channel development executive Corey Marsh (who grew up a serious fan of Boy Meets World) speak about the the years-long journey from their initial conversation at Jerry's Deli in Los Angeles about the concept of Girl Meets World to the reality of the television premiere this week.
The Disney Channel series premiere on Friday scored a very impressive 5.2 million television viewers, in addition to many more viewers who watched the pilot for free on iTunes in the weeks before the on-air premiere. Still, Jacobs admits he sets the bar high for himself, the staff, and the cast: "If at the end of it, this isn't better than Boy Meets World, I missed."
Girl Meets World resumes at its regular weekly time of 8:30/7:30c (like the original Boy Meets World timeslot on TGIF) on July 11 on Disney Channel.
To watch the full interview with Michael Jacobs and Corey Marsh on AfterBuzz TV: https://www.youtube.com/watch?v=biplemWf3dY
For further information about the network, visit: http://www.afterbuzztv.com
The Girl Meets World After Show broadcasts worldwide from Los Angeles, CA as part of Maria Menounos and filmmaker Keven Undergaro's online network, AfterBuzz TV. AfterBuzz TV is dedicated to producing daily post-game wrap-up shows for fans' favorite TV shows such as The Bachelorette, Real Housewives' franchises, WWE's Monday Night Raw and countless others. Currently, AfterBuzz TV receives over 26 million weekly downloads on iTunes from over 100 countries.