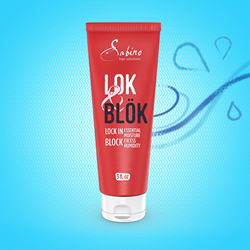 Phoenix, AZ (PRWEB) July 01, 2014
We all love YouTube, whether it's for the latest music video, a recap on what Jimmy Fallon did last night, or to watch cat videos. In addition, a growing segment on the Google-owned video site is composed of how-to videos. There is a video for everything, from how to tie a bow tie to how to install a new toilet. The leader in anti-frizz hair products, Sabino Hair Care, is now showcasing their how-to video to a new population of viewers by putting it front and center, leading in to many popular videos as a self-standing ad.
Originally created for the hair care's YouTube channel https://www.youtube.com/user/sabinohair in 2011, the video has received 10,000 hits since its initial launch. In simple terms, the video explains and demonstrates how simple it is to use Lök & Blök, Sabino Hair Care's signature anti-frizz serum, to transform frizzy hair into manageable curls or, if the customer prefers, straight hair. Sabino has acquired a large following among women of African-American and mixed heritage because of how well the serum works for thick, frizzy hair.
The marketing team at Sabino realized that they could capture an even bigger share of the market by condensing the how-to video from its original 3 minutes to just 30 seconds and showcase it as an advertisement. "We saw that, although YouTube has powerful search engine tie-in, we were missing a large segment of our potential audience," shared Sabino's spokesperson. "By choosing our target market and tying our ad to specific videos, we've been able to reach 23,324 in in a few months."
In actuality, it only took 15 minutes for the model's hair to go from frizzy to tame, and the waterproof serum locks in natural hair moisture while blocking out humidity and dryness. Sabino asserts that customers can enjoy a longer time of frizz-free beauty than many other, similar products due to the fact that most of those are water based.
To learn more about Sabino Hair Care and watch this new advertisement visit their website, sabinohaircare.com, and their YouTube channel, youtube.com/user/sabinohair.
About Sabino Hair Solutions:
With products formulated by Victor Sabino, a veteran hair designer, Sabino Hair Solutions is a leader in delivering anti-frizz serums and products. The company is headquartered in Phoenix, Ariz., and serves customers around the globe.