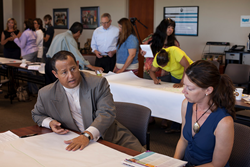 The goal is to keep students in school, while spurring changes in school culture that support and nurture students, teachers, parents, and staff.
Denver, Colorado (PRWEB) June 30, 2014
The Denver Foundation has funded a cohort of twenty elementary, middle- and high schools and five agencies all working to reduce suspensions, as well as to address racial and ethnic disparities in suspensions. Evidence shows that when suspensions are reduced, students are far more likely to stay in school for the long term, succeed in their studies, and graduate to successful futures.
The Denver Foundation provides members of the cohort with funding to implement these practices. In addition, the cohort comes together periodically to address key shared challenges, such as the need for data to support and inform their work.
The goal is to keep students in school, while spurring changes in school culture that support and nurture students, teachers, parents, and staff.
There are four main ways that cohort groups and schools are taking action:
1) Socio-emotional learning: This practice helps both students and adults to learn how their emotions affect their behavior and relationships, and to develop the skills to cope with their emotions.
2) Restorative justice: This practice brings everyone in a school together to create a 'culture of care.' Teachers, students, parents, and administrators come together in circles to address challenges and behaviors that create problems in the school.
3) Trauma-informed and culturally-responsive practices: Oftentimes, students who are having challenges staying in school are coping with trauma in their homes, or cultural differences with teachers and administrators. These practices are proven to help address such difficulties.
4) Peer-to-peer mentoring: When students are mentored by other students who have faced the same challenges they have, the results can be dramatic.
All partners also incorporate and are supported in using relevant data to engage in intentional work around racial and ethnic disparities.
And all of the work operates through uncovering and addressing the underlying causes of the behavior and referrals – which can span from student need for further learning support, to the challenges and impacts of poverty, to lack of cultural awareness on the part of school staff.
All of these practices have been proven, through extensive research, to reduce suspensions in general. When paired with intentional best practice and use of data, they have also been shown to reduce racial and ethnic disparities in suspensions. All of these practices address the effects of racial and economic inequities on the behaviors of individuals (teachers, students, administrators) and school systems.
Cohort participants include those with the following schools organizations:
Adams 14
Adams 50
Adams County Youth
Altura
Aurora Mental Health Center
Aurora West College Preparatory Academy
Crawford Elementary
Denver Justice High School
East Middle School
East Middle School
Fletcher Community School
Generation Schools
Hinkley High School
North Middle School
North Valley High School
Open Media Foundation
Open Media Foundation
Park Lane
Passage Works Institute
Project VOYCE
reSolutionaries
Vaughn Elementary
Vista Peak
Vista Peak Preparatory
Yess Institute
For more information visit http://www.denverfoundation.org or contact Sarah Park, Director of Education, The Denver Foundation at 303-300-1790.