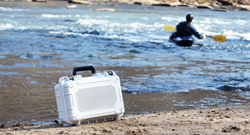 'We're truly excited to be a part of the Summer Market again this year,' says David Sanborn, President of AudioActiv. 'The show provides an opportunity to meet with new business partners, as well as get a first look at some really cool outdoor products.'
Atlanta, GA (PRWEB) June 30, 2014
AudioActiv, creators of the first and only waterproof Bluetooth speaker cases, announced it will be attending the Outdoor Retailer Summer Market for the second year in a row. The premier event for outdoor sports products, being held August 6th through the 9th in Salt Lake City, Utah, will showcase the newest trends and products for the outdoor sports industry.
VAULT cases are the first protective enclosures designed to safeguard portable speakers from water, dirt, shock, and more, all while delivering hifi sound through a patent pending technology called AudioClear™. Pairing a high-end portable speaker with a VAULT case means enjoying music in the great outdoors has never been easier. The cases work with the Bose SoundLink and Jawbone JAMBOX series.
AudioActiv also offers accessories like a bike mount to further enhance the portability of wireless speakers that are not specifically built for outdoor use.
"We're truly excited to be a part of the Summer Market again this year" says David Sanborn, President of AudioActiv. "The show provides an opportunity to meet with new business partners, as well as get a first look at some really cool outdoor products".
AudioActiv established a foothold in the protective case market with their launch of the original VAULT case in late 2012. Since that time, the company has amassed thousands of customers due to the unique ability to deliver serious protection, unbelievable sound, and long-lasting durability for some of the best-selling portable speakers. More information on VAULT cases can be found at http://www.audioactiv.com.
About AudioActiv:
AudioActiv is a young company with a passion for designing and manufacturing great products that make every day more enjoyable. Their journey began when music, the outdoors, and a never-ending pursuit of good times came together to form a simple idea. That idea inspired AudioActiv's founders to develop their first product, the original VAULT case. VAULT cases remain the first-ever protective enclosure to allow music lovers to experience all of the amazing features of their portable Bluetooth speaker without having to worry about damage from water, dirt, sand, snow, or impact. AudioClear acoustic technology delivers reliable protection and uncompromising sound like nothing available in the market.