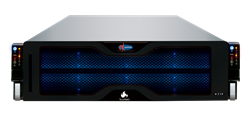 San Jose, CA (PRWEB) July 08, 2014
iXsystems today announces general availability of three all-new models of the TrueNAS Unified Storage Appliance. The new models also come with the latest revision of the TrueNAS appliance firmware series, TrueNAS 9.2, which includes major improvements to nearly every feature, including reporting, enclosure management, and a REST API for automated management, along with dramatic performance gains.
The new TrueNAS models, in ascending order, are the TrueNAS Z20, Z30, and Z35. The Z20 provides entry-level functionality with performance sufficient for small business file storage, low-utilization VM storage, or simple backups. The Z30 adds capacity and performance, and increases scalability in order to support the needs of heavier workloads and/or larger businesses. The Z35 is the highest performing model of the group, designed for enterprise workloads and beyond-petabyte scalability.
Each model can now be equipped with redundant storage controllers for high availability or purchased with only one and field-upgraded with a second storage controller to add high availability at a later date. The common modular platform between all three models also makes upgrading or downgrading between appliances a snap. So, customers can pay as they grow, or enhance the availability of their system at a later date, instead of having to make those decisions on the date of purchase.
Brett Davis, Executive Vice President at iXsystems says, "Advancements in our software performance and features since we debuted TrueNAS in 2011, along with the custom, purpose-built hardware platform, have allowed us to streamline the TrueNAS appliances down to three models. Instead of making customers choose between separate lines that provide high availability, better performance, or increased capacity, TrueNAS is now a single line of appliances with universal HA capability, scaling up in both performance and capacity, without compromising any of the flexibility."
Headless and automated management has long been high on the list of features requested by the diverse TrueNAS client base, and the TrueNAS 9.2 firmware series includes a complete REST API providing full parity with the web user interface. This will allow administrators to integrate TrueNAS with any automated or remote management tools they desire, such as Cacti, Nagios, Zabbix, Zenoss, etc.
Kevin O'Grady, VP of Sales with Blue Cloud Consulting, says, "iXsystems continues to be the leader in Open Source Storage development. The release of TrueNAS version 9.2 solidifies this position. There have been across-the-board enhancements in user experience and manageability. We have seen tangible improvements in ZFS and encryption performance. This translates into a measurably improved end user experience on systems of every size. TrueNAS performance now pushes theoretical limits. As systems engineers and integrators, BlueCloud continues to gain a competitive performance advantage through TrueNAS. We are excited about this release, and look forward to the future."
The Web UI in TrueNAS 9.2 also features information on each individual swappable component connected to the system, including power supplies, fans, and storage expanders. This will make service easier than ever, by pointing out where failed components are located and assisting in remote diagnosis of complex problems.
Other new capabilities that have been added to TrueNAS 9.2 are real-time LZ4 compression, per-disk performance monitoring, and enhancements to CIFS, NFS, AFP, and iSCSI. As a result, performance has been improved throughout the system. Thanks to these optimizations, some customers who upgraded to TrueNAS 9.2 experienced more than tenfold reductions in storage latency for their workloads.
Joe Granneman, CIO of Rockford Orthopedic Associates, says, "TrueNAS is an exceptional value. Compared to the rigid and proprietary SAN and NAS alternatives, TrueNAS has all of the features you need and makes the transition to Open Source technology simple. And, with their incredible grasp of the ZFS file system, iXsystems' support staff is truly knowledgeable and does more than just read off a flow chart, unlike so many other providers we worked with previously."
Together, the updated hardware and software in the new TrueNAS models make for an appliance that provides excellent storage performance and all the features needed to manage and deploy it effectively. For more information or a free storage consultation and quote, contact iXsystems today at (855) GREP-4-IX (855 473-7449) or iXsystems.com/TrueNAS.
About TrueNAS®
TrueNAS is the only Enterprise Unified Storage Appliance from the creators of the world's most popular open source storage system, FreeNAS®. TrueNAS leverages a hybrid flash storage architecture, real-time compression, and advanced functionality of the ZFS filesystem, to create a high-performance, feature-rich storage appliance. Along with rock-solid iXsystems hardware expertise and the familiar FreeNAS interface, TrueNAS is a storage appliance like no other.
About iXsystems®
iXsystems is the industry leader in Open-Source-friendly enterprise servers and storage solutions. All of our products are assembled, tested, and shipped from company headquarters in Silicon Valley, and technical support is provided in-house by the same engineers that build the systems. Thousands of companies, universities, and U.S. Government departments have come to rely on iXsystems' customer-first commitment to excellence. iXsystems champions the cause of Open Source technology by dedicating extensive resources to several FreeBSD community projects: FreeNAS®, PC-BSD®, FreeBSD®, TrueOS®, and OpenZFS.