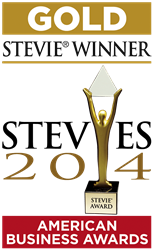 It is an acknowledgement of the great amount of time and effort our team invests every day in making us the most innovative and transparent firm in our industry to help fund small business owners nationwide. - Jared Feldman, CEO and Founder
New York, NY (PRWEB) July 01, 2014
Fora Financial was presented with a Gold Stevie® Award in the Financial Services Company of the Year category at the 12th annual American Business Awards held recently in Chicago.
"It's a privilege to be recognized as a Gold Stevie Award winner along with some of the greatest companies in the United States," said Fora Financial CEO and Founder Jared Feldman. "It is an acknowledgement of the great amount of time and effort our team invests every day in making us the most innovative and transparent firm in our industry to help fund small business owners nationwide."
The American Business Awards is the nation's premier business awards program. More than 3,300 nominations from organizations of all sizes and in virtually every industry were submitted this year for consideration in a wide range of categories. Approximately 240 executives worldwide were selected as Stevie Award winners.
"It's an honor for us to recognize and celebrate such an outstanding class of organizations and individuals," said Michael Gallagher, President and Founder of the Stevie Awards. "The judges were especially discerning this year. All of this year's Gold, Silver and Bronze Stevie winners should be proud that the judges recognized their achievements and their ability to express those achievements in a way that captured the judges' hearts and imaginations."
Nicknamed the "Stevies," meaning "crowned" in Greek, winners received Stevie trophies during a gala banquet on Friday, June 13, at the Fairmont Chicago Millennium Park Hotel. More than 400 nominees and their guests attended.
For more information on Fora Financial, please visit http://www.forafinancial.com. Details about The American Business Awards and the list of winners in all categories are available at http://www.StevieAwards.com/ABA.
About Fora Financial
Fora Financial offers flexible, working capital solutions to small businesses in need of financing to sustain or grow their enterprise. The Manhattan-based company places a high value on trust and transparency and provides businesses with quick, customized financial solutions utilizing its state-of-the-art technology platforms. Founded in June 2008, Fora Financial has a total of 80 employees who have provided more than $210 million to over 5,000 customers.