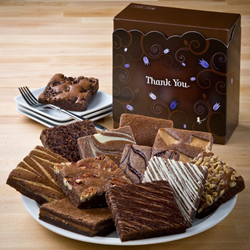 Phoenix, AZ (PRWEB) June 30, 2014
Shipping perishables during the summer months - especially from Phoenix - is a bit tricky. But Fairytale Brownies has been doing it since 1992, and has the system perfected. As soon as the temperatures reach 100 for three consecutive days, the mail order company charges an extra $2 to ship gifts in insulated packaging and reusable ice packs to insure freshness.
To give customers a summertime incentive, Fairytale Brownies will offer free standard shipping on select gifts each week throughout the month of July. Check the sale page for gift items featured.