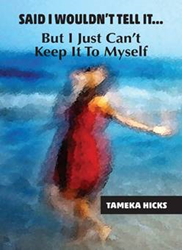 When we seek God first we will find our purpose. After we find His purpose, then and only then will we know His will for our lives.
Jackson, TN (PRWEB) July 01, 2014
With detailed stories and encounters that tap into author Tameka Hicks' spiritual side, after 17 years of questioning God about her life and her purpose in life, God has answered Tameka and His messages are so powerful that she dares not keep it to herself. Said I Wouldn't Tell It…. But I Just Can't Keep It to Myself is abundantly laced with poetry, scripture references, and God's spoken word.
This is the amazing story of an anointed 19-year-old female college student. Tameka will help her readers understand the Power, Position, and Promises of God, by introducing and explaining the purpose of life and the purpose of pain, constantly endured by believers of the faith and non-believers. Tameka Hicks will help you realize that life is truly worth living and nothing is impossible when God is on your side.
Said I Wouldn't Tell It…. But I Just Can't Keep It to Myself was written to inspire those of you who don't understand that life is a precious jewel, even throughout the pain, heartaches, and struggles.
This story was written because Tameka listened to and chose to obey God through her spiritual wilderness. She did not write the story to expose her life, but to give God the Glory and Honor, as she reveals why she didn't 'give in and lose her mind, identity and her peace.
According to Fr. Etido Jerome, SSJ, University Chaplain, Xavier University of Louisiana, This powerful and intriguing book announces God's victory over evil. This is God at His best. Tameka's fascinating story captures it well. Only God alone can claim the baggage of our own lives.
"When I speak about the promises and Will of God to young people, many hear me but don't always understand me," says Tameka. "I hear the cries of my generation, because of the trauma, violence, and confusion surrounding the communities. I asked myself, what can I do to show that I understand the effects, and the pain of struggling, however I found a peace, and joy that has caused me to rethink how I view my own life even with the baggage that followed. I learned that before I could move forward in life, I had to let go of who I was, and walk with who God had created me to be."
Tameka wants people to understand, especially her generation, that life is worthy living and there is a greater path to follow. She wanted to show that I didn't make it alone, that she needed God, and is nothing without Him.
Fr. Etido Jerome SSJ, University Chaplain, Xavier University of Louisiana agrees with Tameka that only God alone can claim the baggage of our lives and feels that her book is apt for all people. He states, Said I Wouldn't Tell It…. But I Just Can't Keep It to Myself has in it the power to inspire all who acknowledge the power of God to break every chain through Christ.
Based on her strong belief that God as the fixer of all things, Tameka's compelling personal experience of God's victory of evil walks us into the mystery of God. Her message offers the simple hope that the complications of our lives are not beyond repair.
Tameka Hicks can be described as a passionate, persistent, dedicated, and God-fearing lady, author, and poet. She discovered her purpose and God's will for her life at age 18. Tameka has faced much pain, heartache, and battles in her life but refuses to be defeated.
She aspires to speak her story all over the nation to hurting men and women to help them understand that if she made it through, they can and will too. Ms. Hicks is not only a writer, but also a college student at Xavier University of Louisianna, in New Orleans. She desires and aspires to be a CEO of a fortune 500 company, and build her own ministry. She has a real passion for writing and speaking the Word of God. No matter where she is or goes, Tameka acknowledges that God is first in her life, and that she is nothing without Him. Tameka Hicks was born in Memphis, Tennessee on June 1, 1994.
Said I Wouldn't Tell It …
But I Just Can't Keep It to Myself
Tameka Hicks
ISBN # 978-0-692-23792-2
Said I Wouldn't Tell It Paperback
Retail Customers
Bookstores and Libraries contact
Tameka Lashay Hicks
Call: 731-513-1702
Email: TamekaHicks360(at)gmail(dot)com
Visit: http://tamekahicks460.wix.com/saidiwouldnttell
Media contact:
Tameka Lashay Hicks, Publisher
Christian Soulseeking Publishing
Call: 731-513-1702
Email: TamekaHicks360(at)gmail(dot)com
http://tamekahicks460.wix.com/saidiwouldnttell
Tameka Hicks
Live Interview by Michel Angelo
Click here
Tameka Hicks
YouTube
Click here