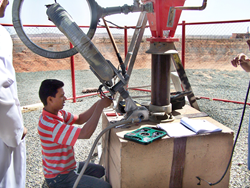 "Those who successfully complete The RF Safety Awareness - AM Tower Workers Course receive a certificate documenting comprehension of the critical topics covered and are well equipped with the knowledge to work safely around AM towers,"
Greenville, NC (PRWEB) June 30, 2014
LBA University, Inc. announced the introduction of a new safety training course for companies that deploy personnel on or near AM radio towers. The RF Safety Awareness - AM Tower Workers Course illustrates why working on or near an AM tower is very different from working on or near most other towers. The course also addresses federal guidelines for safety compliance as it relates to working on or near an AM tower. The course is RF 1009 in the LBAU Course Catalog.
This new online course is designed to familiarize individuals with the basic knowledge of radio frequency (RF) safety in regards to human exposure to AM tower antennas. The course illustrates why special precautions must be taken AM towers.
"With AM, the tower itself is the antenna and the RF is transmitted at relatively long wavelengths which means a worker will always be in the near-field of the AM antenna," said LBAU EHS Services Director, Bryan Dixon.
LBAU has developed this course from decades of experience in providing medium wave (AM) broadcast and compliance solutions. Those who successfully complete the course learn that RF from an AM radio station induces an alternating electric potential on ungrounded or poorly grounded metallic objects that are near an AM antenna. Sometimes touching metallic objects near an AM tower can produce a shock. This shock may cause one to release their grip and fall. It also has the potential to do other bodily harm.
The course outlines the steps related to properly complying with Federal Communications Commission (FCC) guidelines for AM stations. It also describes how to assess the exposure potential of persons working or occupying areas in the close-in vicinity of AM transmitting antennas. The RF Safety Awareness - AM Tower Workers Course also teaches the proper safety assessment procedure and an awareness of how to identify risks to protect against bodily harm.
"Those who successfully complete The RF Safety Awareness - AM Tower Workers Course receive a certificate documenting comprehension of the critical topics covered and are well equipped with the knowledge to work safely around AM towers," added Dixon.
For more information about the new RF Safety Awareness - AM Tower Workers Course and the many other training options offered by LBA University, including the FCC AM Protection Compliance Course, contact Stacey Moore at: Stacey(dot)moore(at)lbagroup(dot)com or 252-757-0279.
About LBA
LBA Group, Inc. has 50 years of experience in providing RF asset solutions and risk management for industrial and telecommunications infrastructure assets. The company is comprised of LBA University, Inc., providing on-site and online professional training; the professional engineering consultancy Lawrence Behr Associates, Inc.; and LBA Technology, Inc., a leading manufacturer and integrator of radio frequency systems, lightning protection, and EMC equipment for broadcast, industrial, and government users worldwide. The companies are based in Greenville, N.C., USA.