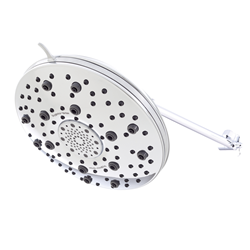 Sparks, NV (PRWEB) September 03, 2014
The Oxygenics Vortex has been selected as a Consumers Digest Best Buy in the faucet and shower head category in their March/April 2014 issue. The process for selecting Consumers Digest Best Buys is rigorous, and the Best Buy rating is awarded to fewer than 3% of the competing models in any given category.
"Oxygenics is pleased to receive national recognition for the Vortex through this endorsement from Consumers Digest," said Travis Hawkins, President of Oxygenics. "Our company is committed to continuous shower head innovation while maintaining the highest level of quality. It is gratifying to be selected for this honor by a trusted national consumer publication regarded so highly for their product evaluations."
In general, Consumers Digest evaluates product categories based off of eight criteria: performance, ease of use, features, quality of construction, warranty, efficiency, styling, and maintenance and service requirements – creating the most ideal product available to purchase for consumers. According to Consumers Digest, the Vortex is the "…the only model that's in this price range that we found that includes an adjustable arm, which allows you to adjust the height and angle. This model also is 4 inches larger than is any other economy showerhead…."
The Vortex features patented Oxygenics technology that combines oxygen and water to produce a shower stream that feels more powerful than standard showers but actually uses less water, saving you money. Total savings from using a Vortex shower head can be up to $85 per year, depending on how often the shower is running. Savings come from both using and heating less water, thereby reducing water and energy costs. The extra-large 10" face with 6 water-expanding Oxygenics engines provides maximum spray power and coverage. It comes with a limited lifetime warranty and is available in chrome and brushed nickel.
To learn more about the Oxygenics Vortex or to check local availability, visit oxygenics.com.
The "Consumers Digest Best Buy" designation is a registered certification mark of Consumers Digest Communications, LLC, used in this press release with permission. For more information, visit ConsumersDigest.com.
About Oxygenics
Oxygenics is a worldwide leader in creating showerheads that are powerful, comfortable, and efficient. Using a combination of cutting-edge technology and intuitive design, Oxygenics employs a full line of showerheads that deliver a satisfying shower experience while saving water and energy. To learn more, visit oxygenics.com.