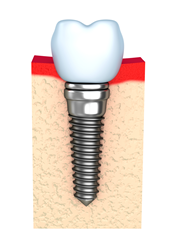 GetUSales dental implant marketing campaign educates and excites readers about the many benefits of dental implants.
(PRWEB) July 08, 2014
GetUSales, a marketing automation company that specializes in DFY Infusionsoft campaigns, has just released a ready-made dental implant marketing campaign. This campaign is educational and informs readers about how dental implants work and how they solve the daily problems associated with dentures or missing teeth.
Dental Implant Marketing Taps into a Large Potential Market
According to the American Association of Oral and Maxillofacial Surgeons, nearly 70% of adults from 35 to 44 have lost at least one tooth to gum disease, tooth decay, accidents, or failed roots canals. And by age 74, more than three-quarters of adults have lost all their permanent teeth.
Dental Implant Marketing Campaign is Part of GetUSales' Marketing Automaton Package for Dentists
GetUSales' dental implant marketing campaign is just one aspect of its marketing automation package for dentists. The dental package is designed to nurture any sort of lead that comes into a dental office, with specific campaigns for each individual interest.
GetUSales' Marketing Automation Package for Dentists Comes with 8 Campaigns
7 Secrets to Raising Cavity-Free Children – Easy-to-use tips and tricks parents can use to keep their kids' smiles healthy
The Magic of Dental Implants – This campaign illustrates how dental implants will allow patients to reclaim the quality of life they had back when they had a perfect smile.
End-of-Year Deductible – Patients will appreciate this campaign reminding them to schedule their necessary appointments before their deductible goes back into effect.
Refer-A-Friend – Referrals are the lifeblood of any successful business. Get more referrals than ever before with this simple automated campaign.
Holiday Campaign – Send patients warm wishes on all the major U.S. holidays.
New Patient WOW – Start brand-new patient relationships off on the right foot with this informative first campaign.
Whitening Campaign – Whitening is one of the most popular dental procedures on the market today. Give patients the "little nudge" they need to finally schedule the teeth whitening they've been wanting with this informative campaign.
How to Get started With Dental Implant Marketing
It's easy to get started with dental implant marketing. Call GetUSales at 855-834-4850 or visit http://www.GetUSales.com today.