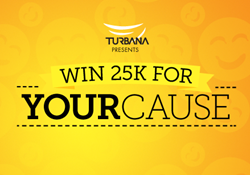 Coral Gables, FL (PRWEB) July 07, 2014
Corporations often donate money to charities or non-profits, but it's rare to find an organization that lets the consumer decide where their support should go. Turbana is taking its social movement, "Growing Smiles, Sharing Goodness," to a new level by encouraging the community to speak up and choose causes close to their own hearts and homes. The community cause that receives the most votes will win a $25,000 sponsorship, and Turbana will work with community members to instate a program that supports the cause.
Dubbed "Win 25K For Your Cause," this interactive contest gives the community a chance to speak up, take action, and create a big impact. The contest will be fully housed within Turbana's Facebook, and will be driven by consumer engagement, votes, and shares throughout the period from July 1 to August 12. Consumers will be asked to "tally" themselves into Turbana's ongoing "Growing Smiles, Sharing Goodness" movement, which is focused on empowering individuals to do good for their communities. They can then either nominate a cause of their choice, or vote for a cause that has already been nominated.
Since Turbana's main focus is on inspiring healthier, happier communities, it's only appropriate that the company takes on such an ambitious call-to-action. Born from a cooperative of farmers seeking a better standard of living, Turbana takes pride in empowering the communities in which it operates or grows its bananas and tropical produce. Turbana's "Growing Smiles, Sharing Goodness" movement has helped spark initiatives such as "New Smiles for Uraba," "One Laptop Per Child," and the "International Sister School Garden Exchange," among many others.
"Win 25K For Your Cause" will prove that consumers have the power to make a difference by bringing light to worthy community organizations that need support, and simultaneously bringing about positive change in their local areas. Turbana aims to produce a snowball effect by using the company's own enthusiasm and passion for community involvement to inspire consumers to participate in giving back to their communities. By giving a voice to the community, rather than speaking for them, Turbana proves that its core values truly do lie with the consumer and the community.
###
About Turbana
Established in 1970, Turbana Corporation is a leading importer of tropical produce in North America, including bananas, plantains, pineapples, and ethnic tropicals. Turbana is proud to have been the first organization to bring Fair Trade Certified bananas to North America. A pioneer in sustainability and social consciousness, Turbana has developed the farming communities in the banana and plantain-growing regions over the past 44 years through its social foundation, Fundauniban. Turbana gives a portion of every purchase to Fundauniban, contributing to the $250 Million the foundation has invested in social and economic projects for education, housing, infrastructure, and environmental protection since 1987. Additionally, Turbana invests in its communities across the US, helping them build sustainable and healthy practices. Turbana is owned by Uniban, the world's largest grower-owned banana company and the world's largest producer of Fair Trade Certified bananas and plantains, and Fyffes, one of the largest produce importers and distributors in Europe. For additional information, please visit, http://www.turbana.com.