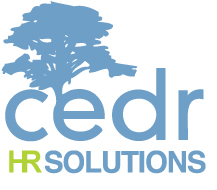 Tucson, Arizona (PRWEB) July 01, 2014
On June 12, 2014, Paul Edwards, the CEO and Co-Founder of CEDR HR Solutions, a Nuanced Media client, presented "The Devil's in the Details: A Guide to the Most Common Urgent Care Policy Mistakes," to members of the Urgent Care Association of America (UCAOA).
CEDR HR Solutions is the nation's premier provider of individually customized, legally compliant employee handbooks for medical and dental offices. CEDR is staffed by HR and employment law experts and attorneys, and often hosts webinars and Continuing Education courses for medical employers both online and at conferences across the country. This is CEDR's first webinar created specifically for UCAOA members.
During the recent presentation of "The Devil's in the Details," Paul Edwards spoke to urgent care center owners, doctors and managers about the need to protect themselves and their businesses in a world where six out of ten employers have faced an employee lawsuit just in the past five years. Urgent care professionals from across the country attended this interactive and eye-opening training course.
The webinar highlighted the fact that an urgent care center's employee handbook policies can either make management easier and protect the business, or hinder operations and become a tangled mass of liabilities, putting owners at risk of lawsuits, fines, and staggering expenses. Attendees learned about the specific needs of urgent care centers and the most common policy mistakes, including many employee policies that sound reasonable but are risky, unenforceable, or downright illegal.
Hundreds of employment laws are added or changed every year at both the federal and state levels, and employers must remain 100% compliant with all of them – an impossible feat unless one is an HR expert or an attorney. By ensuring policy compliance and providing expert guidance, CEDR's goal is to help employers prevent and resolve employment disputes, limit liabilities, and better protect and run their businesses.
About CEDR HR Solutions
CEDR HR Solutions is the nation's number one provider of individually customized employee handbooks and unlimited, on-demand HR support for medical and dental offices of all sizes and specialties. Paul Edwards is the CEO and Co-Founder of CEDR HR Solutions. He has over twenty years of experience in management, is an expert in HR, and specializes in the employee issues doctors and medical practice managers must deal with each day. Paul Edwards is a featured writer for several industry publications and speaks regularly at medical and dental seminars across the country.
About Nuanced Media
Nuanced Media is a digital marketing and graphic design firm. The company specializes in strategic, multilayer marketing campaigns and efficiently crafted, user-friendly websites. Based in Tucson, the company has a variety of clients throughout Arizona, California, and Texas. For more information, please view Nuanced Media.