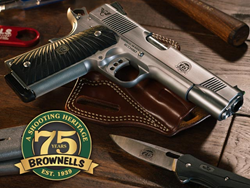 Just want to thank you people at Brownells for the gun and your service.
Montezuma, Iowa (PRWEB) July 01, 2014
Brownells is proud to announce 75-year-old Monroe Estenson of Morris, Minnesota, has won the Brownells 75th Anniversary Wilson Combat stainless steel CQB 1911. Brownells held the drawing for the limited-edition pistol, featuring Brownells' anniversary logo etched in the slide, as part of the company's year-long anniversary celebration.
Estenson's name was drawn from thousands of entrants who signed up at Brownells.com, Brownells 2014 NRA Show booth or on the Brownells' Facebook page.
Estenson is a retired U.S. Postal Service letter carrier, a U.S. Marine, and a Brownells' customer for 15 years. He's been a hunter and shooter for at least 65 years, and credits growing up in a family of hunters and shooters for his lifelong interest in firearms. He currently helps out with the local high school trap league, and entered the contest on the Brownells' Facebook page.
He has already taken the Wilson Combat CQB to the range and enjoys it immensely.
"I found it shoots better than I can hold, so I'll have to work on that," said Estenson. "I can reload for it. Just want to thank you people at Brownells for the gun and your service."
"That 1911 pistol is a real beauty," said Frank Brownell, Brownells' Chairman of the Board. "I get a kick out of the fact that Monroe is 75 years old, as am I. Just proves that old joke about shooters: they never die, they just keep on collecting guns and shooting 'em. The contest was a lot of fun with a lot of interest. We certainly had a great time giving the 1911 made for us by Wilson away. I want to thank everyone who entered."
Founded in 1939, Brownells provides premier firearms parts, ammunition, gunsmithing tools, reloading components, survival gear and archery products to customers worldwide. Brownells is dedicated to unmatched Selection, unrivaled Service and absolute Satisfaction, as proven by their industry-exclusive 100-percent Forever Satisfaction Guarantee on every product sold. Additionally, their professional gun and archery techs are available to answer customer questions on nearly any firearm- or archery-related issue, free of charge. Consumers may order or get more information by calling 800-741-0015 or visiting http://www.brownells.com.