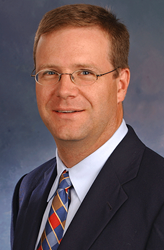 Atlanta, Georgia (PRWEB) July 01, 2014
Richard D. Phillips, associate dean of academic initiatives and innovation at Georgia State University's J. Mack Robinson College of Business since 2012, has been named dean of the college, effective July 1.
Phillips succeeds H. Fenwick Huss, who resigned after 10 years as dean of the college. Huss is now the Willem Kooyker Dean of the Zicklin School of Business at Baruch College, part of the City University of New York System.
A risk management scholar, Phillips joined Robinson in 1994 as an assistant professor and became chair of the Department of Risk Management and Insurance in 2006. Under his leadership, the department shifted from an insurance-centric focus to a broader study of risk dedicated to understanding, quantifying and developing strategies for managing risks faced by individuals, organizations and society. He has served on many college-wide initiatives, including as chair of the task force that laid the foundation for the college's Vision 2020 strategic plan.
Phillips, the C.V. Starr Professor of Risk Management and Insurance, holds a Ph.D. in insurance and finance from the Wharton School of Business at the University of Pennsylvania. He serves on the board of the American Risk and Insurance Association, is co-editor of the Journal of Risk and Insurance and past president of the Risk Theory Society.