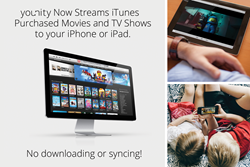 'We'll keep working to unify the huge content libraries we all have in our households,' says Erik Caso, co-founder and CEO.
Santa Monica, CA (PRWEB) July 01, 2014
younity (http://www.getyounity.com), the service that lets people privately unify and access all their files via their own personal cloud, today announced an updated version of their app allowing users to stream the content they buy on the iTunes Store.
Until now, there were two ways to watch your iTunes content on the go: think ahead and sync the content you want before running out the door; or finding a WiFi network, ensuring there's storage space on your device, then waiting 15 minutes or more for content to download. younity's newest feature applies immediate streaming capability to premium content purchased on iTunes without having to download or sync anything…just as younity offers for all non-iTunes content (including music, video and photo libraries stored across multiple computers).
"Our users love the ability to unify and stream media from all their computers, but they've been asking us to solve the problem of watching purchased iTunes videos for a while now," says Erik Caso, co-founder and CEO. "It's always nice to deliver on a promise that we'll keep working to unify the huge content libraries we all have in our households."
The average person has hundreds of gigabytes of video, which is usually stored on the big hard drives of computers and not easily accessed from phones and tablets. While much of that content is user generated, premium content is a large portion of users' hard drives: in 2013 alone Apple sold over $16 billion of content in the iTunes Store.
Carolina Caso, wife of the CEO, and her friends had a hand in this release. "I'm a busy working mom and constantly using younity for streaming music or sharing photos and videos. My friends and I often talk about the times we need to amuse our children for a few extra minutes, but our iPhones never have storage available to download our kids' movies and shows.
"After a few months of lobbying, it looks like we got our way," she laughs. "When I'm in the car or looking for an extra 20 minutes of peace at a restaurant, younity helps me buy some time when the kids get restless."
younity enables spontaneous, on-demand access to all of one's music, video and photos for free – without storage limits, uploading or syncing. The average person has roughly 1 terabyte of content and the amount of video people buy and create is growing faster than any other type of content. In fact, roughly two thirds of the typical person's hard drive stores video (up from about 51% in December, 2013). "We've seen tremendous growth in video content in the last 6 months, as well as video streaming – the average video session in younity is over 45 minutes long. Whether it's parents looking to calm down the kids at a restaurant or action sports fanatics sharing their GoPro videos, we see our users constantly demanding better video discovery, access and sharing. Over the next few versions of younity, you'll see us continue to focus on delivering on that demand."
younity is free for unlimited use. Learn more or download at http://www.getyounity.com.
About younity
younity creates a personal cloud for all your files, built from your devices and your online services. younity unifies all your music, photos and video from all your devices, regardless of storage and without syncing, so that all your devices work as if they were a single device — you can access any file, anytime, from any device. There's no configuration, management or storage limits — it's simple to use and free for any amount of data. Created by Entangled Media, younity is based in Santa Monica, California. For more information, please visit http://www.getyounity.com.