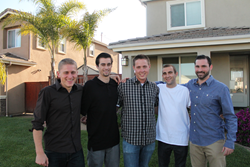 The drug overdose mortality rate in Montana is currently the 21st highest in the United States.
Los Angeles, CA (PRWEB) July 01, 2014
Living far away from viable treatment and sober living options can be very frustrating for a parent. When a parent first looks for help they look in their community. Unfortunately for most families, proven drug and alcohol abuse assistance is oftentimes not close by. Out-of-state parents who need support finding a community of young people in recovery will find it in the newly published article on the New Life House blog. California is the epicenter of the recovery world. There are hundreds of choices for sober living homes, primary treatment centers and recovery communities.
Avi Satz, Director of Operations for New Life House recovery community stresses the importance of addicts getting as far away as possible from their old using territory. "Being in a setting away from home and familiar places allows a young person to take the time to focus on his/her recovery without distractions. It provides a safe place for them to break unhealthy habits, behaviors and relationships away from their old environment, which can jeopardize their sobriety."
The Montana mother who was interviewed for this article describes her frustration at having no options available in her small town and how leaving home was the best thing she could've done for her son.
Since 1985 the New Life House recovery community has been helping families help their sons in the battle against drug and alcohol addiction. Their community-focused method is what has kept them at the center of the recovery world for almost thirty years. New Life House http://newlifehouse.com has extended their community with the launch of their New Blog Into the Heart of Addiction http://newlifehouse.com/into-the-heart-of-addiction/ where they offer hope and support for everyone who loves a young person struggling with substance abuse.