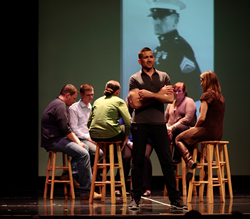 Denver, CO (PRWEB) July 01, 2014
Denver Veterans and military family members perform in an original stage production of The Telling Project at the Auraria Campus from July 30th – August 3rd.
The Telling Project (TP), Veteran Artist Program (VAP), Campus Compact of the Mountain West (CCMW), and the Bob Woodruff Foundation will present an original production of Telling: Denver July 30th – August 3st, 2014 at Saint Cajetans on the Auraria Campus, in conjunction with the Colorado Veterans in Higher Education Summit. Nine participants, consisting of Veterans and military family members, will tell their own stories on stage in front of a Denver audience under the direction of The Romero Theater Troupe. The Auraria Campus is hosting Telling: Denver through the support of Metropolitan State University of Denver's Veteran and Military Support Services Office, in partnership with the SECond Mission: Service|Education|Careers Initiative for student Veteran success through CCMW.
In preparation for this one-of-a-kind production, Telling: Denver participants will undergo interviewing and performance training, acquiring tools to activate their community through the arts. Delta Force, Marine Corps combat correspondents, Vietnam special operations, combat nurses – these are a few of the perspectives this performance affords, all from Denver and Colorado-based Veterans and military family members. Telling: Denver will be the 16th production by The Telling Project. The Telling Project has been featured by the New York Times, Washington Post, NPR, CNN, MSNBC and others, and performed at The Guthrie Theater (Minneapolis), The Library of Congress, Portland Center Stage, Maryland Center for the Performing Arts and others.
Written by Jonathan Wei, directed by The Romero Theater Troupe and produced by BR McDonald, Telling: Denver features nine Veterans and family members, including Tabitha Bennett, Jenn Calaway, Gina Fasciani, Josh Hamann, Richard McKee, Sarah Plummer, Anastasia Pyzhov, Jim Stevens, and Megghan Stevens. Cast members represent Veterans from four branches of service and include military family members as well. More information and tickets can be found at http://www.ccmountainwest.org/telling-denver-0.
About The Telling Project
Since 2008, The Telling Project has worked with communities and organizations to produce "Telling", a performance in which military Veterans and their family members, after interviews, performance training and rehearsal, stage the 'telling' of their stories for their communities. The Telling Project has performed in 17 cities and 10 states, putting over 65 Veterans and their family members on stage. Partners and sponsors include the Smithsonian Institute, Library of Congress, Maryland Arts Council, National Endowment of the Arts and the American Legion. Press includes the Associated Press, Pentagon Channel, Huffington Post, Fox News and MSNBC. The Telling Project and Veteran Artist Program recently performed Telling: New York City – This is What We Fought For at the Fashion Institute of Technology in Chelsea, Manhattan.
About Campus Compact of the Mountain West
Campus Compact of the Mountain West (CCMW) is a membership organization of 22 colleges and universities devoted to civic and community-based service and learning in Colorado and Wyoming. CCMW connects campuses with communities by integrating community-engaged practices into academic and co-curricular programs and by extending civic engagement across institutions of higher education. Most recently, CCMW began SECond Mission: Service|Education|Careers, an initiative focused on student Veteran access and success as servicemen and women transition from active duty, through higher education, and into meaningful careers post-graduation. Information about CCMW's campus partners, programming, and impacts can be found at http://www.ccmountainwest.org.
About Veteran Artist Program
Since 2009, VAP has worked with national Veteran and arts organizations to produce six music/theatrical live events, filmed three documentaries, one feature film, curated gallery exhibits, provided videography/photography services, and helped organize more than 30 community improvement projects, including painting two murals in Baltimore. VAP has conducted projects in New York City, San Francisco, Baltimore, Washington D.C., Chicago, Orlando and San Diego. Projects include the Arts, Military + Healing Initiative in D.C., the opening of Bloomberg's Workforce1 Veteran Career Center in New York, the first-ever all Veteran artist exhibit at the Pentagon and the Arts and Service Celebration in New York City. VAP's work has been seen on CNN, Fox News, ABC, BBC, MSNBC and covered by NPR, Baltimore Sun, The Washington Post, and The New York Times.
About the Bob Woodruff Foundation
The Bob Woodruff Foundation (BWF) is the nonprofit dedicated to ensuring that post-9/11 injured service members, Veterans and their families thrive long after they return home. A national organization with grassroots reach, the Bob Woodruff Foundation complements the work of the federal government—diligently navigating the maze of more than 40,000 nonprofits providing services to Veterans—to find, fund and shape innovative programs and hold them accountable for results. To date, BWF has invested more than $20 million in solutions, reaching more than 1 million service members, support personnel, Veterans and their families. For more information about the Bob Woodruff Foundation, visit bobwoodrufffoundation.org.
About the Romero Theater Troupe
The Romero Theater Troupe is a group of teachers, students, workers, and activists who facilitate the telling of stories of little known, everyday people who have stood up for themselves and for their communities. The Troupe focuses on "Social Justice though Organic Theater". Their mission is to grow together in community with others, to engage the general public in the practice of exploring history, and to promote social justice through the art of theater. The Romero Theater Troupe exists in order to return the art of theater to the people.
Contacts: BR McDonald
br(at)veteranartistprogram(dot)org
929-400-2719
Stephanie Schooley
stephanie(at)ccmountainwest(dot)org
303-964-5084