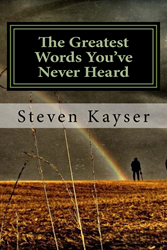 CINCINNATI, OH (PRWEB) July 01, 2014
Steve Kayser, an award-winning media personality and founder of Kayser Media, recently released an inspirational collection of true stories of triumph, "The Greatest Words You've Never Heard."
"The human condition is a curious one: We all face trials and tribulations throughout our lifetimes, and yet, when we hit a rough patch, we feel overwhelmed and alone," says Kayser, who is also an editor, publisher and former radio host. "It's as if we're the only people to have experienced that particular calamity. But bad stuff happens to everyone, and many of us respond with courage and fortitude."
Kayser's true stories of triumph are tales of both well-known and not-so-well-known people whose responses to challenges provide a roadmap with nuggets of insight.
"These stories are raw, emotional, motivational and inspirational," Kayser says.
These are not only gripping true stories of triumph – they're also true tales of heroism, including that of inventor Nikola Tesla, said to have such an innate sense of altruism, he cared little for money. Tesla wanted to give mankind the gift of free, wireless electricity, "but his indifference to greed and egotism was ultimately his undoing … by other men who put greed and ego above all else," Kayser says.
"Eclectic and unique, these stories will engage your heart and inspire your soul," writes Ken Blanchard, coauthor of "The One Minute Manager."
"This book explores the depths of human connection through the words and stories of real people you've probably never heard before," writes Amazon reviewer Teri Doty, who gave the book five stars. "The stories are thought-provoking and insightful; stories of heartbreak and innocence lost. Stories that describe profound human understanding that will move you to tears with words – words carefully chosen whose wonderful and terrible meanings cut to the depths of our souls and lift our spirits."
"Steven Kayser has woven a wonderful tapestry of words with honest meaning, thoughtfulness and depth of emotion in the stories they relay. This book will be a great addition to anyone's summer reading list, or anyone who seeks to have their faith in humanity restored with true, human stories that matter."
About Steve Kayser
Steve Kayser is an award-winning writer, editor, publisher, former radio host and founder of Kayser Media. He has had the great fortune to interview and collaborate with some of the best minds in the business world, and his eclectic approach to public relations and marketing has been widely documented. He recently published "The Greatest Words You've Never Heard," (http://www.stevekayser.com).