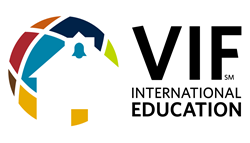 Whatever the school environment, our Splash dual language programs produce positive results.
Chapel Hill, N.C. (PRWEB) June 30, 2014
VIF International Education, the leading provider of global education programs for K-12 schools, announced Monday that 47 schools across North Carolina will offer its Splash Language Immersion programs during the 2014-15 school year, marking an increase of 14 schools providing VIF dual language offerings in the state. Schools initiating language immersion offerings are joining a network of North Carolina schools that have made the commitment to bring authentic language learning and global education to their students by partnering with VIF.
In Splash Language Immersion classrooms, up to 90 percent of core subject matter is taught in a target language, either Spanish or Mandarin, producing students who are bilingual and biliterate. These increasingly important skills promote high student achievement and give students a competitive advantage in today's global marketplace. Research indicates that children who learn in two languages also benefit from increased critical thinking skills, cognitive development and executive function. In addition, recent test results show that K-5 students participating in Splash Language Immersion programs surpass their peers in reading, math and science, and they historically outpace state averages in proficiency. Most schools participating in Splash programs are neighborhood schools, 60 percent receive Title 1 funding and almost 20 percent are two-way immersion programs serving both Spanish- and English-speaking communities.
"A powerful aspect of dual language learning is that the cognitive benefits and proficiency increases hold true regardless of socioeconomic or demographic variables," said VIF CEO David Young. "Whatever the school environment, our Splash dual language programs produce positive results."
Within North Carolina and around the country, more and more schools and districts are harnessing the benefits of dual language immersion options to address an array of issues including low academic performance, under-enrollment and loss of students to private and charter school options. North Carolina school districts offering Splash Language Immersion programs are Alamance-Burlington, Buncombe County, Cabarrus County, Cumberland County, Edgecombe County, Harnett County, Hoke County, Iredell-Statesville, Johnston County, McDowell County, Moore County, New Hanover County, Onslow County, Randolph County, Rockingham County, Union County, Wake County, Warren County and Wilson County Schools.
Based on their first-hand experience with Splash Language Immersion program outcomes, five North Carolina school districts will grow existing Splash programs and three districts will expand their K-5 immersion programs into middle schools using VIF's Splash Spanish Language and Culture course. This original course promotes a discovery-based approach to teaching and learning grammar, builds on students' competence in the target language and provides meaningful global studies contexts to foster continued growth of language skills.
VIF Splash Language Immersion programs provide partner schools with comprehensive dual language curriculum resources and online professional development to support dual language and global education teachers. Language immersion is an innovative choice for students and families interested in increasing proficiency in students' first and second languages, cultural literacy and overall academic performance. By partnering with VIF to expand its Splash Language Immersion programs, North Carolina schools are reinforcing the state's commitment to creating high-performing, global-ready students.
###
About VIF International Education
VIF International Education (http://www.vifprogram.com) builds global education programs that prepare students for success in an interconnected world. For more than 25 years, educators have leveraged VIF's professional development and curriculum, language acquisition and teacher exchange programs to generate engaging learning environments where students can excel in core curriculum as well as develop valuable critical and creative thinking skills. A certified B Corp and 'Best for the World' honoree headquartered in Chapel Hill, N.C., VIF provides a pathway for teachers, schools and districts to become globally designated.
About Splash Language Immersion
Splash programs provide a comprehensive package to develop and maintain consistent, high-quality K-8 world language programs in North Carolina. In a Splash dual language immersion classroom, VIF provides teachers with tools to promote academic achievement through enrichment rather than remediation. Students, in turn, excel in their core studies while becoming bilingual and culturally aware. All Splash teachers receive support and ongoing training, and belong to an online community of educators in the VIF learning center, where they have access to Global Gateway professional development and a robust library of curricular tools and classroom resources.
Tags: language immersion, dual language, world language, bilingual, biliterate, Spanish, Mandarin, global competence, global awareness, cultural awareness, global schools, global education, international education, curriculum, K-12, student achievement, North Carolina schools