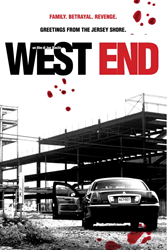 WEST END is old-school the way we like it: cops and criminals as human beings, navigating the moral labyrinth of family loyalty, JERSEY style. – whatweekly.com
Los Angeles, CA (PRWEB) July 01, 2014
Downtown Film Festival Los Angeles (DFFLA) is dedicated to showcasing the best independent cinema in the heart of the world's creative capital. The festival's programming reflects downtown L.A.'s vibrant new urbanism, the blend of old and new with a strong sense of community. That's what brought WEST END to the attention of Greg Ptacek and Henry Priest, the festivals co-directors.
WEST END is Director/Writer Joe Basile's tribute to the Jersey Shore where he grew up. As DFFLA captures the essence of downtown Los Angeles, WEST END captures the essence of the Jersey Shore. Both share a gritty elegance, a common ground shared by all their different communities.
"WEST END is a HAMLET reimagined on the Jersey Shore, a tough character driven crime drama, reminiscent of films made in the 70's," says Basile of his debut feature film. "I set out to make a film that evokes emotion which makes the audience feel the inner struggle of its characters."
Basile with his cast, Eric Roberts (The Dark Knight, The Expendables, Pope of Greenwich Village), Peter Onorati (Murder in the First, Goodfellas, Cop Rock), Isabella Hofmann (Homicide, Providence), Melisa Archer (One Life To Live) and Joe Nieves (How I Met Your Mother, Prime Suspect, 24) are set to be in attendance at WEST END's screening.
Here is what critics are saying about WEST END:
"WEST END is old-school the way we like it: cops and criminals as human beings, navigating the moral labyrinth of family loyalty, JERSEY style." – whatweekly.com
"WEST END marvelously enwraps the viewer into a never ending state of paranoia." - nerdy.co.uk
WEST END also stars: Neal Bledsoe (Ironside, Smash), Paul Calderon (Pulp Fiction, King Of New York, The Bad Lieutenant), and Wayne Duvall (Lincoln, Prisoners, The District).
For more information DFFLA and WEST END, please visit: http://www.dffla.com and http://www.westendthemovie.com.