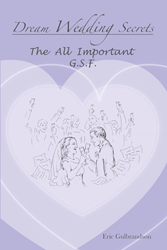 Los Angeles, CA (PRWEB) July 01, 2014
Wedding photographer Eric Gulbrandson recently published his new book, "Dream Wedding Secrets: The All Important G.S.F.," which focuses on an entirely overlooked aspect within the genre's literature: the Guest Satisfaction Factor (G.S.F.).
"Dream Wedding Secrets" is packed with quotes from more than 200 wedding guests, who provide their perspectives on what makes a wedding perfect – or disastrous -- for them as guests. The Guest Satisfaction Factor (G.S.F.) is increasingly becoming a crucial consideration for those planning weddings.
"Until now, the focus has always been on saving, borrowing or budgeting so that the bride can have her 'perfect' wedding, but weddings now cost more than ever for the guests – the average cost for a guest to attend a wedding has jumped 75 percent over the past two years!" Gulbrandson says.
Wedding guests now spend an average $592 per wedding on clothing, gifts, transportation, hotels, etc., up from $339 in 2012, according to a recently published American Express survey.
"If you're having guests attend your wedding, just as if they were attending a party of yours, it's a good idea to make all efforts to ensure they too can enjoy themselves."
"Of course, it's important that the bride has her day, but part of that means knowing that everyone else is also enjoying the event," Gulbrandson says.
Just one way to help ensure a high G.S.F. is to have plenty of food and drink available, he says. Of course, you want the food to be tasty and satisfying, but you don't have to take out a second mortgage. Go more for quantity over quality; it's more important to have enough food than to have a little bit that's top drawer.
"… Gulbrandson filled the book ("Dream Wedding Secrets: The All Important G.S.F.") with lots of great tips to make your wedding a memorable and happy event," writes Amazon reviewer Chelle Cordero.
"I particularly like the way he presents his suggestions, presenting actual stories and quotes from guests, family members and in some cases the bridal couple. He presents alternatives and allows couples to choose what is most important to them. The result is a wedding ceremony and reception that truly reflects the couple and still raises the Guest Satisfaction Factor (G.S.F.)."
About Eric Gulbrandson
Eric Gulbrandson is a longtime wedding photographer who began compiling interviews for "Dream Wedding Secrets: The All-Important G.S.F.," (http://www.dreamweddingsecrets.com), in 2009. As a wedding photographer, he heard many happy guests – and many unhappy ones – and realized that most publications offering wedding advice focused on either making the bride and wedding more beautiful, or planning the wedding on a limited budget. He interviewed hundreds of guests with the primary question, "What makes a wedding great or not so great for you as a guest?" He compiled thousands of stories and responses to derive consensus opinions on essential Guest Satisfaction Factors.