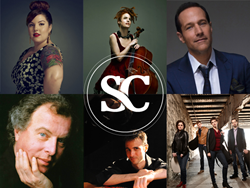 "We're extremely proud of how much we've grown since opening last year," says co-founder Marc Kaplan. "This next year is about transitioning from being the new kid on the block to establishing our identity as a unique music destination in New York City."
New York, NY (PRWEB) July 01, 2014
Marc and Steven Kaplan, co-founders of SubCulture, announce their 2014-2015 programming for the downtown performing arts venue. Touted by The New Yorker as having a "strong curatorial hand," SubCulture's founders enter their second year with a dynamic array of new series, multi-concert residencies, creative partnerships, and a program championing emerging composers.
"We're extremely proud of how much we've grown since opening last year," says co-founder Marc Kaplan. "This next year is all about transitioning from being the new kid on the block to establishing our identity as a unique music destination in New York City."
SubCulture's new programming initiatives include: The New Standard, a multi-genre concert series celebrating fresh and inventive music with world premieres, New York City debuts, and one-of-a-kind collaborations; PianoFest, SubCulture's two-week-long festival of stylistically-diverse piano concerts; and The Cycle, a unique presentation of Beethoven's complete string quartet cycle performed by the Ariel Quartet in eight immersive, in-the-round concerts.
Kaplan says, "These new programs reflect the broad range of music we love and a new way of engaging the artists who inspire us. And we're thrilled to present the Ariel Quartet performing Beethoven's cycle in such an intimate setting – the musicians will perform them literally in the heart of the audience. This is chamber music up close."
SubCulture is also stepping into the ring with a new composer-in-residence program. The two-year residency will provide composers with support throughout their creative process and furnish them with a platform to present their music. SubCulture's inaugural Composer-In-Residence is critically-acclaimed composer and pianist Gregg Kallor. Kaplan says, "The idea of nurturing artists and their work has been on our radar from the beginning. We've been huge believers of Gregg Kallor and his music for years — he's the perfect composer to launch this program."
Partnerships continue to be a focus for the venue in its second year, with 92nd Street Y Concerts and CONTACT! presented by the New York Philharmonic and the 92nd Street Y both returning, while classical music residencies include the American Modern Ensemble, Concert Artists Guild, Ensemble ACJW, and the Stecher and Horowitz Foundation.
The 2014-2015 programming, which kicks off on September 5th with Julie Feeney, will include special engagements by Katherine Jenkins, Zoë Keating, Nicola Benedetti, Tigran Hamasyan, Livingston Taylor, Break of Reality, Alasdair Fraser and Natalie Haas, and Taylor Eigsti's Free Agency.
The complete list of series and special engagements is below, and new performances will be added regularly at http://www.subculturenewyork.com/series.
ABOUT SUBCULTURE
SubCulture is a performing arts venue located in the historic NoHo neighborhood of downtown Manhattan. Founded by brothers and lifelong music lovers Marc and Steven Kaplan, the venue was designed to foster an intimate connection between artists and the audience. SubCulture's programming bridges genres, featuring curated performances that engage, provoke, and inspire. SubCulture has received praise from The New York Times, The New Yorker, New York Magazine, and Time Out New York for the its exquisite sound, comfortable aesthetic, and unparalleled hospitality for guests and artists alike.
"SubCulture, a stylish multi-genre performance space." – The New York Times
"[SubCulture] added another reason for contemporary and chamber music fans to head downtown. With partnerships with the 92nd Street Y… and the New York Philharmonic's CONTACT! series, the space seems to be off to a good start." – WQXR
2014-2015 SUBCULTURE PROGRAMMING
THE NEW STANDARD
It happens every once in a while and when it does, there's no going back. The paradigm shifts. The benchmark is elevated. A "new standard" is declared. It is with this in mind that SubCulture proudly presents The New Standard, a multi-genre concert series celebrating fresh and inventive music by impassioned, boundary-pushing artists. The featured artists on The New Standard series were chosen for their creative risk-taking, emotional authenticity and ability to inspire audiences.
September 5-6 – Julie Feeney
October 2 – Spektral Quartet featuring Julian Labro
October 17-18 – Theo Bleckman and Preston Bailey
October 30 – Jo Lawry
November 7 – Etienne Charles
November 12 – Danish String Quartet
March 28 – Don Ross
April 16 – The Awakening Orchestra conducted by Kyle Saulnier
May 7 – Claire Chase and Anthony Roth Costanzo
May 16 – Vertical Voices
SUBCULTURE'S 2ND ANNUAL PIANOFEST
Spanning multiple genres, PianoFest shines a spotlight on the sonic versatility of the piano and showcases a diverse assembly of established and emerging artists.
September 10 – Three Trios: Krom, Danny Fox Trio, Cory Henry Trio
September 12 – Jim Brickman, The Platinum Tour: Celebrating 20 Years
September 13 – Weiyin Chen
September 15 – Lysander Piano Trio
September 16 – Gregg Kallor (SubCulture's 1st Anniversary)
September 17 – Geoffrey Keezer
September 19 – Edwin McCain and Michael Kaeshammer
September 20 – Mary Lambert
September 21 – Ted Rosenthal Trio
September 23 – Inon Barnatan
September 24 – Anthony Molinaro, Here, There and Everywhere
September 26 – Sara Slean
September 27 – Evan Duffy
THE CYCLE WITH THE ARIEL QUARTET
Characterized by its youth, brilliant playing, and soulful interpretations, the Ariel Quartet has quickly earned a glowing international reputation. The Cycle presents the awesome scope of Beethoven's entire body of string quartets thematically and in the round, changing the way we experience this music.
September 30 – Op. 18, No. 3 (D major); Op. 95 (F minor); Op. 135 (F major)
October 28 – Op. 74 (E flat major); Op. 59, No. 3 (C major)
November 18 – Op. 18, No. 2 (G major); Op. 127 (E flat major)
January 17 – Op. 130 (B-flat major), with Grosse Fuge, Op. 133
February 17 – Op. 18, No. 4 (C minor); Op. 59, No. 2 (E minor)
March 18 – Op. 18, No. 5 (A major); Op. 131 (C-sharp minor)
April 14 – Op. 18, No. 1 (F major); Op. 59, No. 1 (F major)
May 12 – Op. 18, No. 6 (B-flat major); Op. 132 (A minor)
SUBCULTURE'S COMPOSER-IN-RESIDENCE: GREGG KALLOR
Providing support throughout the creative process from conception to premiere, the Composer-In-Residence program is about fostering the very artists who inspire SubCulture. The first year of Gregg Kallor's residency will feature three world premieres performed by Kallor and a complement of outstanding soloists.
September 16 – Piano music, performed by Gregg Kallor
April 28 – Songs with Adriana Zabala and Matthew Worth
June 11 – Chamber music with Gregg Kallor, Joshua Roman and Miranda Cuckson
CONTACT! THE NEW-MUSIC SERIES: AT SUBCULTURE, CO-PRESENTED BY THE NEW YORK PHILHARMONIC AND 92ND STREET Y
Entering its sixth season in 2014–15, CONTACT!, the Philharmonic's new-music series, highlights the works of both emerging and established contemporary composers, performed by smaller ensembles of Philharmonic musicians in intimate venues outside the Lincoln Center campus. All concerts will be performed by musicians from the New York Philharmonic.
November 17 – CONTACT! Hosted by John Adams
February 9 – New music from Israel with Lisa Batiashvili
May 11 – New music from Italy
92Y CONCERTS AT SUBCULTURE, CO-PRESENTED WITH 92ND STREET Y
After a resoundingly successful inaugural season, this innovative series of recitals by artists and ensembles with a distinctly "downtown" vibe returns for five one-hour-long programs that reflect the performers' individual artistic visions and feature commentary from the stage. The final three concerts are co-curated by the renowned violist Hsin-Yun Huang and Tisch Center for the Arts Director Hanna Arie-Gaifman.
October 21 – Odair Assad
October 22 – Smetana Trio
December 15 – "Schoenberg before Schoenberg"— Leila Josefowicz and Jesse Mills, violins; Hsin-Yun Huang, viola; Fred Sherry, cello
February 2 – "From Folklore to Modernity" — Miriam Fried, violin; Hsin-Yun Huang, viola; members of Ensemble ACJW
April 27 – "Sonatas from the Soviet Era" — Hsin-Yun Huang, viola; Ignat Solzhenitsyn, piano
"SIR ANDRÁS SCHIFF SELECTS," CO-PRESENTED WITH 92ND STREET Y
92Y and SubCulture are also proud to co-present three young pianists in recital, personally selected by pianist Sir András Schiff, who just received a British knighthood for his services to music, and who will introduce the first recital. This series is also being presented in Berlin at the Maison de France.
February 13 – Kuok-Wai Lio
March 2 – Roman Rabinovich
March 16 – Adam Golka
AMERICAN MODERN ENSEMBLE AT SUBCULTURE
Founded in New York City in 2005 by Robert Paterson and Victoria Paterson, American Modern Ensemble is a dynamic, creative force in the modern music scene, programming both cutting edge and traditional works. This residency celebrates AME's 10th anniversary.
January 15 – String Theory - Music for Strings and Harp
March 3 – Blue
April 6 – Cutting Edge & AME
CONCERT ARTISTS GUILD AT SUBCULTURE
With a mission "to discover, nurture & promote young musicians," CAG provides support to talented artists selected through an annual international competition open to traditional and non-traditional instrumentalists, ensembles and singers. The string-centric series at SubCulture features four concerts by exceptional young artists.
September 15 – Lysander Piano
November 3 – PUBLIQuartet with Gregg Kallor
January 18 – Sybarite5
April 15 – Jay Campbell, cello and Conor Hanick, piano
THE STECHER AND HOROWTIZ FOUNDATION AT SUBCULTURE
The Stecher and Horowitz Foundation, a non-profit organization, supports and inspires young musicians through the New York International Piano Competition. Constantly expanding its vision, The Foundation continues to serve and inspire outstanding young musicians worldwide.
November 20 – Artists TBD
January 8 – Artists TBD
March 5 – Artists TBD
ENSEMBLE ACJW AT SUBCULTURE
Created in 2007 by Carnegie Hall's Executive and Artistic Director Clive Gillinson and The Juilliard School's President Joseph W. Polisi, Ensemble ACJW is an inspirational collective of young professional musicians who are fellows in a two year program that supports them in building careers as top-quality performers, innovative programmers, and dedicated teachers who fully engage with the communities in which they live and work.
January 22 – Ensemble ACJW
March 26 – Ensemble ACJW
June 16 – Ensemble ACJW
SPECIAL ENGAGEMENTS
October 9-11 – Katherine Jenkins
October 24 – Livingston Taylor
November 8-9 – Break of Reality
January 11-13 – Zoe Keating
January 29 – Nicola Benedetti
February 25-26 – Tigran Hamasyan
April 24 – Taylor Eigsti's Free Agency
May 6 – Alasdair Fraser and Natalie Haas