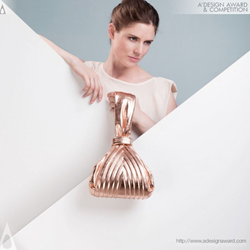 Como, Italy (PRWEB) June 30, 2014
A' Design Award and Competition is pleased to announce that the work Tango Pouch by Gretchen became winner of the Platinum A' Design Award in Fashion and Travel Accessories Design Competition.
About Tango Pouch
Anne-Christin Schmitt, the lead designer of the award winning design said "The Tango Pouch is an outstanding bag with a truly innovative design. Inside is large enough and the folding magnetic closure provides an unexpected easy and wide opening. The Pouch is made with soft waxed calf skin leather for an incredibly pleasant touch of the handle and puffy side inserts, intentionally contrasting with the more constructed main body made from so-called glazed leather." Learn more and download high-resolution photos at: http://www.adesignaward.com/design.php?ID=31394.
The Platinum A' Design Award
The Platinum A' Design Award is a prestigious award given to top 1% percentile designs that demonstrates an exemplary level of quality in design. Entries to the A' Design Award and Competition are evaluated by an international jury panel of expert designers, experienced academics as well as prominent press members. Each entry is peer reviewed and anonymously voted following strict evaluation guidelines and predetermined voting criteria. Laureates of the A' Design Award and Competition are provided a series of PR, publicity and marketing tools such as inclusion in Design Mega Store to promote awarded entries further as well as to celebrate the status of winning the accolades. Award winners also receive the 3D printed metal award trophy, hardcover annual of best designs, the design excellence certificate as well as an exclusive invitation to gala-night and exhibition.
About A' Design Award and Competition
Since 2009, A' Design Award and Competition has been featuring the very best designs in all disciplines worldwide in order to create a global awareness for good design practices and principles. Today, A' Design Award & Competition is the worlds' most international design award, having entries from each and every country worldwide. The aim of the A' Design Award & Competition is to push designers, artists, architects, product manufacturers and brands worldwide to come up with superior products and services that benefit mankind. Learn more: http://www.whatisadesignaward.com.