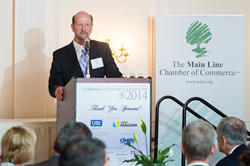 King of Prussia, PA (PRWEB) July 01, 2014
Steve Wray, CEO of Cadient Group, a digital marketing services provider to the healthcare industry, has been named this year's Main Line Chamber of Commerce CEO of the Year. Under Wray's leadership, Cadient Group has established itself as one of the Mid-Atlantic region's leading independent marketing communications agencies. During the past year, Cadient Group has experienced significant expansion, adding 14 new account assignments and achieving the strongest revenue growth in the company's 10 year history.
"I am honored to be acknowledged by the Main Line Chamber," said Wray. "I am keenly aware, however, that the success of Cadient Group has been and continues to be a team effort. As such, I am proud to share this honor with the incredibly creative and dedicated team that I work with day in and day out. We couldn't have chosen a better home for our business – Philadelphia's Main Line is a vibrant and supportive community that houses and attracts some of the country's brightest minds, allowing entrepreneurial businesses like ours to thrive. I salute the Chamber for their vision, leadership and commitment to the region's businesses."
Each year, the Main Line Chamber of Commerce recognizes businesses, nonprofits and CEOs for their outstanding work and service in the community. The recipients of the 2014 Business Awards were recognized last week at the Celebration of Business Leadership Luncheon at The Desmond Great Valley Hotel and Conference Center. Other categories included Small Business of the Year and Nonprofit of the Year.
In the past year, Wray and Cadient Group have focused on delivering "results in action" for its clients. The team's culture of curiosity and innovation helps Cadient deliver engaging programs and platforms for a range of biotechnology and specialty brands, pharmaceutical companies and healthcare provider organizations.
In addition to his role at Cadient Group, Wray serves on the board of directors of Health Market Science, Inc. Among his numerous volunteer activities, Steve is on the advisory board of the Melanoma International Foundation and a coach for Broomall-Newtown Babe Ruth Baseball.
Cadient Group also received the Main Line Gives Back Award in 2013, recognizing outstanding philanthropic efforts by companies in the region.
ABOUT CADIENT GROUP
Cadient Group is a leading multi-channel marketing services provider focused upon the life sciences industry. Based in King of Prussia, PA and New York City, Cadient Group serves a diverse range of industry markets and stakeholders, including pharmaceuticals, biotechnology, medical devices, consumer healthcare, sustainability, and healthcare systems. The company produces business-changing solutions for innovative life sciences companies, driving success for some of the world's most novel therapies and category-defining brands. For more information, visit http://www.cadient.com. You can also follow Cadient Group on Twitter and Facebook.
# # #