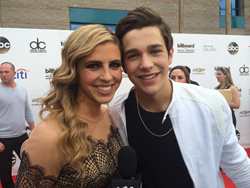 New York, NY (PRWEB) July 01, 2014
On Saturday, July 5th at 12:30pm ET/PT, "Best of 2014… So Far"—a 30-minute special jammed-packed with today's hottest music videos, along with artists and viewers, sound off on their favorite videos of the year (so far!)—will debut exclusively on Music Choice Play. In "Best of 2014… So Far," Music Choice's "You & A" host Clare Galterio will take to the streets of New York to gather viewer opinions, as well as chat with stars on the red carpet of the Billboard Music Awards, to find out which artists to keep an eye on and who is shaping up to have the biggest year ahead.
"Best of 2014… So Far" includes exclusive interviews with Austin Mahone, Lucy Hale, Pete Wentz, Wiz Khalifa, and Estelle.
Tune-in to "Best of 2014… So Far" exclusively on Music Choice Play on Saturday, July 5th at 12:30pm ET/PT to find out who has made the list this year…so far. Runtime: 30 minutes. Check local TV listings for channel lineup.
About Music Choice
Music Choice, the multi-platform video and music network, delivers its music programming to millions of consumers nationwide through their televisions, online and mobile devices. Music Choice programs dozens of uninterrupted music channels; produces originals that feature today's hottest established and emerging artists; offers thousands of music videos; and launched Music Choice Play, the music video, lifestyle and entertainment network for Millennials. For additional information log on to http://www.MusicChoice.com | Twitter: @MusicChoice | Facebook: http://www.facebook.com/MusicChoice.