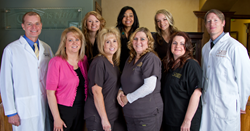 South Jordan, Utah (PRWEB) June 30, 2014
Davis Vision Center in South Jordan, UT recently expanded their office and surgery center to improve service and provide LASIK patients with shorter wait times. The expansion comes with an influx of Salt Lake City patients who are ready to give up glasses and contacts for good and undergo LASIK surgery for better vision.
"At Davis Vision Center, my staff and I are proud to be one of the leading providers of LASIK surgery in the Salt Lake City area, and we decided to move forward with this office expansion to make sure that we provide a superior experience for our patients when they visit our office for LASIK consultations and surgery," said Dr. Brian Davis, LASIK surgeon in Utah. "We look forward to serving our patients better and offering even more patients the opportunity to drastically improve their vision for a better lifestyle."
Dr. Davis was one of the first Utah ophthalmologists to perform LASIK surgery in 1996. Since then, he has personally performed more than 29,000 vision correction procedures for Utah patients who want improved vision without glasses or contacts. LASIK technology continues to improve, providing patients with better results and fewer complications after surgery, and Dr. Davis is committed to always offering patients the latest advances that the industry has to offer.
LASIK surgery at Davis Vision Center is a fairly quick outpatient procedure that takes approximately 20 minutes per eye. Before the procedure begins, each LASIK patient is administered with numbing eye drops that take practically all the pain away from the process, leaving the patient with only slight feelings of pressure and movement. Dr. Davis is known for only providing blade-free technology for his LASIK procedures, which ensures patients the highest level of accuracy and minimum side effects due to error. The technology that Dr. Davis uses for LASIK measure's the patient's eye precisely with lasers to determine where the incision should be made and exactly how the cornea needs to be reshaped to improve vision.
After the procedure is completed, patients return home to let their eyes recovery over a period of 1-2 weeks, during which time the patient returns for a post-operative visit to ensure that there are no complications and that the eyes are healing correctly. Recent statistics show that today's LASIK success rates are between 90-98 percent, compared to a 65 percent success rate when the procedure was first approved by the FDA in 1996.
Dr. Davis has been performing specialized eye surgeries for nearly two decades. He completed his undergraduate education at the University of Utah and continued with medical school in St. Louis, MO. He completed his residency at the University of California, San Diego and soon after returned to his hometown of Salt Lake City. Dr. Davis has been featured in numerous television and newspaper interviews for his expertise as an ophthalmologist, and is currently the director of Ophthalmology at the Jordan Valley and Riverton Hospitals.
To learn more about the Davis Vision Center office or to schedule a LASIK consultation with Dr. Davis and his expert staff, please visit http://www.davisvisionmd.com.