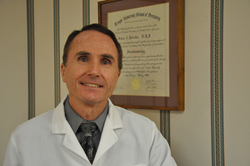 San Clemente, CA (PRWEB) June 30, 2014
Dr. Allen J. Schultz, a periodontist, announces the availability of the groundbreaking Pinhole Surgical Technique (PST™) to treat receding gums. Patients who suffer from recession frequently face two main types of negative consequences: social embarrassment and poor oral health. By performing PST™, Dr. Schultz can reverse gum recession to give his patients the cosmetic and health improvements that they long for.
PST™ replaces traditional gum recession surgery, without the need for stitches. Rather than cutting gums or taking grafts from other parts of the mouth as traditional surgery requires, PST™ simply involves placing a very small hole in the gum near receded areas. Through the hole, Dr. Schultz detaches the gums so he can reattach them to the correct positions on the teeth. Following this procedure, patients experience only slight discomfort and swelling. They typically go about their normal activities directly after their PST™ appointments.
Receding gums are common in adults, but the problem may still be embarrassing for patients who have noticeable recession when they smile. Sadly, many with this problem try to avoid smiling because they dislike the look of their uncharacteristic gums. Dr. Schultz recommends that people who are not happy with their gums seek treatment options, such as PST™. With the benefits that this treatment offers, there is no reason to endure embarrassment or poor oral health.
Less immediately noticeable, but more concerning than esthetics, are the oral health problems associated with gum recession. As gums recede, they expose roots that do not have the protective enamel necessary to ward off decay. Exposed roots are extra sensitive to temperatures and sweet foods, alerting patients to the problem. If the recession continues untreated, the risk of decay increases significantly. Eventually, teeth can loosen and may need to be extracted due to a loss of structural support.
Those who struggle with receding gums in San Clemente do not have to continue dealing with the negative consequences they face. They have a right to know their treatment options and to request a referral from their general dentists to a periodontist who offers PST™. Anyone interested in learning more about PST™ and Dr. Schultz should contact his office by phone or stop by to schedule an appointment for a consultation.
About the Doctor:
Dr. Allen J. Schultz is a periodontist offering personalized dental care for patients in San Clemente, CA for over 25 years. Dr. Schultz attended the University of California-Irvine, and the University of Nevada-Reno. He attended pharmacy and dental school at Temple University in Philadelphia, PA, where he also earned his certificate in periodontics. Dr. Schultz belongs to the one percent of dental professionals currently providing the Laser Assisted New Attachment Procedure (LANAP®), the first FDA-cleared laser procedure for gum disease and periodontal treatment. To learn more about Dr. Schultz and his dental services visit his website at http://www.sanclementeperiodontist.com/Home.aspx or call (949) 493-8857.