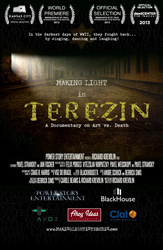 Moving... Miraculous... Life Altering... The film and book, 'Making Light in Terezin' shine brightly in the face of Nazi terror. -- S.K. Shelton, The New Haven Register
Los Angeles, CA (PRWEB) June 30, 2014
Power Story Ent., Inc. announces the release of "Making Light in Terezin" which tells the true story of how Jewish prisoners in the Terezin Ghetto in the Czech Republic managed to survive during WWII with the help of song, dance, theater and comedy.
Krevolin's nationwide tour begins on August 21 at the Palm Beach Jewish Summer Film Festival and Krevolin is now booking interviews and screenings to share the film and its companion book of the same name (available in print and e-reader formats through Amazon.com, etc.).
Despite the mass murder of millions during the Holocaust, and the postwar pleas of "Never Forget" and "Never Again," a newly released international survey conducted by the Anti-Defamation League (http://global100.adl.org) shows that only 54 percent of 53,100 adults polled in 102 countries and territories have ever heard of this horrific historic event. To counter this lack of awareness, Krevolin will start a nationwide tour for the documentary film and book, "Making Light in Terezin."
"Making Light in Terezin," is an 87-minute documentary. It includes interviews with several Holocaust survivors who reflect upon their imprisonment in Terezin Ghetto outside of Prague.
According to Krevolin, one of the most inspiring moments in "Making Light in Terezin" occurred during his interview with Holocaust survivor Pavel Stránský, age 93. Stránský was kept in Terezin from December 1941 through 1943 and was also imprisoned at Auschwitz, where he watched Josef Mengele (an officer and physician infamous for selecting who would be killed) seat young children on his knee and tell them "call me Uncle" right before sending them to their deaths. Despite witnessing such evil firsthand, Stránský never became bitter; instead, he speaks in the film of forgiveness and love and how the arts helped he and other prisoners to survive (for a sneak peak of Stránský's interview, visit youtube.com/watch?v=ogguOPv5fqo).
"Making Light in Terezin" celebrates the creative artistic spirit that was alive in Terezin in 1943 despite the atrocities of war. The companion book offers supplemental details and historical facts that go beyond what is in the film. The book presents the full survivor interviews and discussions with Holocaust scholars, "second generation" family members and even a Ph.D. candidate speaking about the effects of imprisonment and creativity on brain chemistry.
The trailer for the film can be seen at: youtube.com/watch?v=sTJSYPKRhIQ
The book and film can both be purchased on Amazon.com, etc.
About Richard Krevolin
In addition to writing, directing and producing "Making Light in Terezin," Krevolin is the author of several best-selling novels and non-fiction books on writing. He lectures around the world on film, storytelling for businesses and writing. For more information, visit ProfK.com, PowerStoryConsulting.com and MakingLightinTerezin.com.