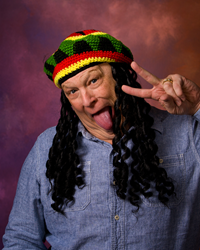 That's the benefit that no one talks about. PPA membership is so much more than equipment insurance or the indemnification trust. It's the lifelong connections you make, that heaven forbid, you might need sometime.
North Platte, Nebraska (PRWEB) June 30, 2014
For the past year, Professional Photographers of America's blog has been tracking the story of Nebraska PPA members Keith and Holly Howe as they worked through Keith's diagnosis and treatment for lymphoma. It hasn't been easy for the Howes, but they've rallied around Keith's positive attitude, and have been surprised with a strong support system—their PPA family.
Keith started getting sick November 2012. New and puzzling symptoms seemed to emerge with each passing day. He'd get better, then worse. Over the next year, Keith went in for repeated tests for any medical condition you can name and more that you can't. Then in September 2013, Keith was finally diagnosed with lymphoma.
Throughout their 30+ years with PPA, the Howes have made countless connections across the country. As a PPA-approved juror for the International Photographic Competition, Keith has been actively involved in mentoring photographers who enter competition images for years. And despite cancer and chemo, this year was no different.
Competitors sent their files and Keith would take a look from his hospital bed and talk them through things over the phone. But as word spread about Keith's health, it was time for PPA members to give back.
Photographers in Nebraska have come and stepped in for recent sessions. Two women from Wyoming came out to photograph their annual big dance school. A photographer from Virginia helped with a recent shoot. Photographers in Florida have raised their cameras and offered support if needed. It all started through PPA.
When the Howes shut down their studio to focus on Keith's recovery, a fellow member set up a fund in Keith's honor to help cover their day-to-day expenses. Donations poured in from all over the world. But to the Howes, it's been about so much more than financial assistance.
"It's just that feeling of support and caring," said Keith. "Just knowing that all of these people from all over the country are pulling for me is a constant reminder to keep our spirits up and have a positive outlook."
The Howes sense of humor helped too. When the chemo caused Keith to lose all of his hair, they dug through the attic and started taking pictures of Keith in funny hats. They created a modeling portfolio on Keith's Facebook, and it took on a life of its own.
Hats started arriving from all over the country. Members sent prop sunglasses with mustaches and stick-on eyebrows. They even received a box from a member now living in Japan.
"Almost every day we get a card or package from a friend through PPA," said Keith. "It's just amazing the people we know through this association."
"That's the benefit that no one talks about. PPA membership is so much more than equipment insurance or the indemnification trust. It's the lifelong connections you make, that heaven forbid, you might need sometime. I don't even know some of these people. But they are taking the time to send a silly package or a card. I can't describe how much that helps."
Keith spent his final week in the hospital in late April. Since, he has been working hard on his recovery. He does some computer work and is even back behind the camera a little bit helping out with a session a day.
In May, Keith had his follow-up PET scan, and it was the first image in his whole career to score a 0. They received the "all clear" they'd been waiting and working for. The Howes could not be happier.
"I've been lucky enough to score a perfect 100 in print competition and that felt awesome, but that zero felt even better!" said Keith.
Throughout Keith's recovery, the light at the end of the tunnel was their oldest son's California wedding in late May. Keith's original goal was to be well enough to attend. Sometimes he felt like he wouldn't get there, but inspired by the support from his PPA family, there Keith was dancing at the reception in an apple orchard as the sun dipped into the Pacific.
About PPA
Professional Photographers of America (PPA) is the largest international non-profit association created by professional photographers, for professional photographers. Almost as long-lived as photography itself, PPA has roots that date back to 1869. It assists close to 27,000 members through protection, education and resources for their continued success. See how PPA helps photographers be more at ppa.com.