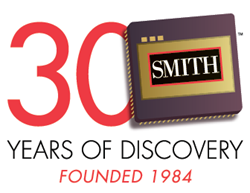 This state-of-the-art facility will bolster our ability to serve customers and provide them the stringent quality that has come to characterize Smith.
HOUSTON, TX (PRWEB) June 30, 2014
Smith & Associates, the largest independent distributor of electronic components, today announces the upcoming expansion of its Houston operational facilities and quality testing laboratory into a new, 57,258 square-foot location. This expanded space will allow room for growth and incorporation of more advanced quality equipment and resources for customer support.
This expansion comes in Smith's 30th anniversary year, as the company looks back on three decades in business and now looks forward to continued advances and improvement. With the threat and variety of counterfeiting continually increasing in the electronic components industry, the quality front is a prime area upon which the company plans to expand and heighten its focus.
This new location will offer just this opportunity. In mid- to late August, the operations department of Smith's Houston headquarters will be moving out of its 15,000 square-foot space at the 60,000 square-foot headquarters location and out of Smith's 40,000 square-foot auxiliary operational warehouse, and will relocate into this new facility approximately a mile from the main Houston campus. This expanded space will allow further capacity for the quality control and counterfeit prevention measures Smith's operational team carries out on a daily basis.
In addition, the new location will also feature approximately 8,000 square feet of office space, which will be designed to highlight sustainable features such as programmable HVAC systems for the sensitive electronic equipment handled there.
"This state-of-the-art facility will bolster our ability to serve customers and provide them the stringent quality that has come to characterize Smith," said Art Figueroa, Smith & Associates' Vice President of Global Operations. "With the strength of our certified – and now expanded – counterfeit detection laboratory and our expert quality team, this facility will be a showplace for what Smith is all about."
Smith's operational and quality team will grow in concert with the laboratory facilities, with about 40 employees planned to operate the new facility initially and with potential for as many as 60 quality experts.
About Smith & Associates
Founded in Houston in 1984, Smith & Associates is a leader in the independent distribution of semiconductors and electronic components to electronics and high-tech manufacturers. Smith offers shortage sourcing for commodity and obsolete parts, innovative purchasing and inventory management solutions, redistribution of excess inventory, and component stocking for warranty and repair programs.
A privately-held company, Smith & Associates employs more than 350 people worldwide, with annual revenue in excess of US $586 million. Smith's regional hubs in Houston, Hong Kong, and Amsterdam are ISO certified. In addition, sales and purchasing offices are located in Austin, Silicon Valley, Guadalajara, New York, Shanghai, Shenzhen, Seoul, Singapore, Taipei, and Penang. For more information, see http://www.smithweb.com/ or, to reach a Smith representative 24 hours a day, please call: 1.800.HOUSTON or +1 713.430.3000.
###
For more information, contact:
Mark Bollinger
Smith & Associates, V.P. of Marketing
+1 713.430.3000
mbollinger(at)nfsmith(dot)com