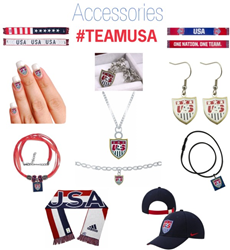 Accessories make the outfit and make it super easy to show off your team pride. -Shalanda Turner
Austin, TX (PRWEB) June 30, 2014
Fashion blogger and style advocate Shalanda Turner shared her fanaticism for the United States Men's National Soccer Team, playing at the 2014 World Cup in Brazil, in a fashion trend report for FashionMingle.net. Teaming her knowledge of international brands and trends, Turner compiled a list of the best items to wear and show off during this year's World Cup.
Knowing what to wear to an international soccer event may not come easily to even the most trendy of fashion enthusiasts. "The easiest way to show off your team spirit is to don red, white & blue," said Turner. She further explained that the patriotic colors can be worn for upcoming American holidays, Independence Day and Labor Day, when the soccer fanaticism dies down. Turner also shared her favorite ladies fashion inspirations from Nike. "I love the cut of the Women's replica US soccer jersey and the USA leggings by Nike.com designed specifically for The World Cup!"
Accessories are another trendy option for international soccer fans. Turner shared that wearing the Team USA scarf, or simply carrying it around, is one of the truest signs of fandom, deeming it a "staple of soccer fans worldwide". Having a range of accessory options that are both tasteful and patriotic was also recommended. "From nail decals to Team USA earrings, these accessories work with anything you choose to wear up to, on & after game day."
Turner's eye for trends is laser-focused. She found off-the-body items that would complete any international soccer-inspired outfit. Ranging from Team USA smartphone covers to reusable cups and window decals, the options to boast and brag about America's team seem limitless. Turner also reminded other Team USA fans, "Don't forget to display a huge USA team flag at home or in your office!"
Shalanda Turner is the Style Editor for FashionMingle.net and the Founder of Live Life in Style. To see Turner's World Cup fashion trend report with pictures of patriotic apparel and accessories, visit http://www.fashionmingle.net.
About FashionMingle.net
FashionMingle.net is a PR platform for fashion entrepreneurs to share, discover, and mingle. The business directory and social network create a platform for fashion entrepreneurs to promote their services and grow their business. More information can be found at FashionMingle.net.