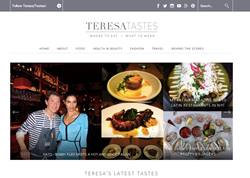 New York, NY (PRWEB) June 30, 2014
International supermodel, Teresa Moore, continues to share her insight on all things food and fashion with her blog, http://www.TERESATASTES.com. This summer, Teresa is expanding the site to include a go-to guide on the biggest summer vacation spot in the country – the Hamptons. She fittingly celebrated the launch of the new Hamptons edition of TERESATASTES last week at one of the area's hottest restaurants, Georgica Restaurant & Lounge in East Hampton. The event received coverage from Hamptons Magazine, NY Daily News, Newsday, amNY, and the New York Daily News among others.
 
The fashion in the Hamptons is just as important as where you are seen. Teresa takes a unique approach with her blog by giving fashion and dress code tips specific to each restaurant she reviews.
Recently, The New York Times featured Teresa's impeccable fashion choices in their Style section, and YAHOO! Travel shared her top ten running paths throughout the world. Teresa goes into even more detail in her blog where she dishes on all things fashion, food, nutrition, travel and more.
Her fresh perspective on delicious yet healthy eating, coupled with her extensive experience in the fashion industry gives TERESATASTES great potential to become the #1 food & fashion site.
 
Teresa Moore's team is currently looking to collaborate with other food, fashion, and lifestyle brands.
 
Media Contact:
Brooke Caldwell of Brandsway Creative
bc(at)brandswaycreative(dot)com
(212) 966-7900
 
Best,
Brooke Caldwell
Brandsway Creative
http://www.brandswaycreative.com
Follow Teresa:
http://www.teresamooreofficial.com
Instagram- @TeresaMooreMoore
Facebook- TeresaMooreModel
Twitter- @MissTeresaMoore