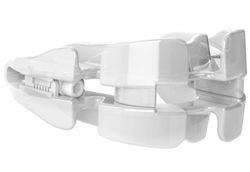 My first night with your Vital Sleep mouthpiece was, as your testimonials claim, snore free! My husband finally got a good night's sleep, as did I.D. Carbrera, Marlboro, NY
New York, NY (PRWEB) June 30, 2014
The latest customer reviews of the FDA cleared VitalSleep anti-snoring mouthpiece are demonstrating continued positive success. This mandibular advancement device gently moves the lower jaw forward to help open the airway of snorers and stop snoring at night.
J. Swethamn of Lakeport, CA shared with us how VitalSleep helped her and her husband sleep better at night together.
"My husband complained that my snoring was getting so loud, he couldn't sleep. Because of a serious medical condition, his need for sleep in very important. The very first night, my snoring was gone. My husband was thrilled, to say the least. Every morning for three weeks, I would take the device into the bathroom, clean it, and put it into the storage container. One morning, I set it on my night stand. My American Foxhound loved the texture and chewed it into unrecognizable pieces. Within a few days, I was back to snoring and my husband was back to not sleeping. I started sleeping on the couch. That wasn't acceptable to my husband, so back to bed and snoring. Because the device was so effective, I ordered a new one today. Wasn't the Christmas gift I was expecting, but my husband will be much happier.
Happily, snorer J. Flescher of Monrovia, CA purchased VitalSleep and shared the following:
"I have been a snorer for many years. I even was diagnosed with sleep apnea and eventually had surgery to correct that, which cured the sleep apnea but not the snoring.
My partner would wake many times throughout the night to try to stop my snoring. It was getting to the point of choosing separate bedrooms! After one particularly bad night, I started surfing the net and found your product. After comparing with others I decided on Vital Sleep and ordered it last Saturday. It arrived Thursday night, I customized it and stopped snoring the very first night."
The VitalSleep anti-snoring mouth guard is a dental device that a person wears to sleep that gently moves the lower jaw forward to open a snorers airway. By opening the airway, increase air can flow into and out of the lungs without the annoying noise that can be created when vibrations are caused due to narrowing.
For information regarding VitalSleep Reviews please visit: http://www.vitalsleep.com./