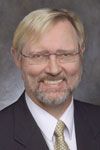 Dallas, TX (PRWEB) June 30, 2014
Haynes and Boone, LLP Senior Counsel Robin Phelan will again appear as deranged investor Boris Badenough at the 19th annual American Bankruptcy Institute (ABI) Southeast Bankruptcy Workshop in a segment entitled, "Disclosure? We Don't Need No Stinking Disclosure! Rule 2014 and Conflicts of Interest."
As Badenough, Phelan's role will explore disclosure and conflicts of interest situations that lawyers could potentially face during a Chapter 11 case.
Additional conference programs include continued learning education credits opportunities and sessions focused on asset protection trusts, asset acquisition from a distressed company and business updates.
At Haynes and Boone, Phelan's practice is exclusively devoted to insolvency, reorganization and related areas, including extensive litigation in the bankruptcy court and other federal courts. He is a frequent speaker on panels and programs throughout the United States and internationally regarding developments in bankruptcy and insolvency law and is the author of numerous publications, several relating to tax, intellectual property, financial contracts, international issues, governmental and environmental claims.
The ABI workshop will be held from July 25-27 at Amelia Island, Florida. To learn more about the workshop, click here.
About Haynes and Boone
Haynes and Boone, LLP is an international corporate law firm with offices in Texas, New York, California, Washington, D.C., Shanghai and Mexico City, providing a full spectrum of legal services. With more than 500 attorneys, Haynes and Boone is ranked among the largest law firms in the nation by The National Law Journal and has been named winner of a 2013 Thomas L. Sager Diversity Award by the Minority Corporate Counsel Association.