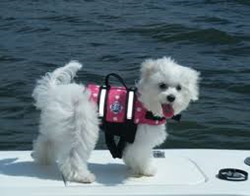 Lakeside trips with your dog can be incredibly fun, but it is paramount to be aware of your surroundings and take certain precautionary measures to maximize your pet's safety.
Jeffersonville, IN (PRWEB) June 30, 2014
Summertime activities are in full swing and many families are taking trips to the lake —which naturally includes everyone's favorite canine. Lakeside trips with your dog can be incredibly fun, but it is paramount to be aware of your surroundings and take certain precautionary measures to maximize your pet's safety.
Here are some tips to ensure you and your pet have a fun-filled lakeside celebration.
Obey Signs. Unless otherwise indicated, no swimming signs apply just as much to our pets as they do to us. If an area is indicated as a no-swim zone, make your pet adhere to that policy as well.
Don't assume that your pet can swim. Just like humans, pets have to adapt to being comfortable in the water. Playfully throwing your pooch out into the lake may not be the best idea. A better approach is to use a ball or stick and play fetch, throwing the object a little further into the water each time until your pet feels comfortable. Some breeds are NOT natural swimmers and only swim for survival—not for play. American Bulldogs are one such example.
Sand can be just about impossible to get out of your long-haired dog's coat. Try picking an area of the lake that has less sand so as to avoid that hassle—including the ticks and other pests that may accompany that.
Always read the warning labels before using bug repellent and sunscreen on your pet. It needs to clearly state "safe for pets." Those for human use can be harmful to our canine counterparts, causing itching, rashes, and discomfort. Should your pet suffer a severe allergic reaction, your lakeside weekend may be interrupted by an emergency trip to the vet's office.
Going out on a boating trip? Make sure that you have Fido's doggy life vest handy. Keeping your confined in the boat is best—especially at night. If your pet falls overboard at night it can be extremely difficult to locate him. Should this happen during the day, point with your finger at where he is and keep it pointed until he is back in the boat safely. Pets cannot raise their hands or shout for help like we can.
After all the sand, sun, and lakeside fun, make sure to clean out your dog's ears. Leftover moisture in the ears is just begging for an ear infection. Some bacterial infections can spread rapidly too, so this step is an absolute must.
One of the most important precautionary measures is this: do NOT let your pet swim in crowded areas. If your dog is a larger breed, be extremely cautious in crowded lake areas. If your pooch gets overly excited, he may grab onto someone, causing accidental drowning of himself or people around him.
Lakeside trips are great bonding experiences for you, your family, and the family dog. Have fun during those times, and take the proper measures so that you can stay lakeside—and not end up veterinarian bound.
About PetFirst
PetFirst is the fastest growing pet insurer in North America offering easy-to-understand lifelong coverage for dogs and cats. PetFirst's comprehensive coverage is unique in the industry providing simplified policies with coverage for hereditary, chronic and breed-specific conditions with no per-diagnosis limits. PetFirst offers pet insurance in all 50 states and the District of Columbia through animal welfare agencies, retailers, employers as well as other partners. PetFirst polices are underwritten by American Alternative Insurance Corporation (Munich Re) which is rated by A.M. Best as A+. Additional services are underwritten by Lloyd's. For more information about PetFirst pet insurance, visit http://www.petfirst.com or call 877-894-7387.