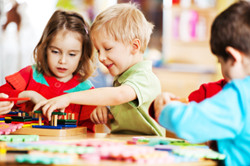 We wanted to help educators find the time to simplify planning as much as possible.
Saint Augustine, Florida (PRWEB) June 30, 2014
This summer, the experts at Teachers' School Supply wanted to find a simpler way for educators to outfit entire schools or classrooms in as few steps as possible. For years they had been offering free customized classroom planning and layout services but knew that today's busy administrator simply might not have time to review hundreds of options. They saw an opportunity to create an even better way to streamline the planning and buying process using the shopping preferences of thousands of clients.
Using their expert insight on classroom technology and furniture, they began designing entire classrooms from the ground up. Conceptually, these ready to go classrooms would allow school boards and administrators to specify a classroom size and order entire classrooms, from rugs to whiteboards, with confidence. These classroom kits would provide administrators a simple way to order essential classroom staples by comparison shopping entire rooms by cost.
The classic classroom kit launched this spring offering pre-planned kindergarten classrooms and has been met with enthusiasm across the board. The beauty of the all-in-one classroom is the tight control busy professionals have over the individual budget for each classroom while the total room pricing makes shopping much simpler than purchasing rooms by the item.
Typically, customers wade through a mountain of options and compare each item side by side, deciding what features they need the most. The items in each classroom kit are determined using the same criteria agents use during one on one consultation. The main sticking points for most customers are price, sizing and availability. Each of these issues is addressed in a unique way, with desk heights and chair styles based on the average sizes of students by grade. For the educator balancing a lot on his or her plate, this removes a lot of the guesswork making it simpler than ever to order online. Classic classrooms focus on value, pairing together the most popular and affordable items with the shortest shipping times.
"We wanted to help educators find the time to simplify planning as much as possible," explained Bianca Woodward, product manager with Teachers' School Supply. "We are constantly trying to find new ways to make ordering easier and less time consuming."
Ultimately, Teachers' School Supply plans to have three different styles in each age group, geared toward the most frequently used classroom configurations as well as options for a variety of resource rooms. Packages can be upgraded and customers still have access to all the color options normally found with each product.
In the coming months, Teachers' School Supply plans to roll out even more complete classroom kits as well as technology sets.